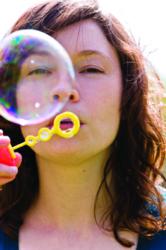 Touchstone activities anchor good intentions of the mind in our physical bodies.
Sedona, Arizona (PRWEB) May 29, 2012
Through presentations to diverse groups, bestselling author and cancer survivor Charlene Costanzo shares ways for adults and children to access their inner strengths during challenging times. According to Costanzo, her most recent presentation was to teen girls in an Orlando, Florida detention center, through a program sponsored by the Jr. League of Greater Orlando.
"No matter what we are facing, we can tap into inner resources, starting with hope, to help us meet the challenge and grow from it," says Costanzo, author of The Twelve Gifts series.
Costanzo credits cancer as the challenge that led her to create a collection of "touchstones" that help open the flow of hope, courage, wisdom, joy, and other capacities which help turn problems into opportunities.
"When I was diagnosed with non-Hodgkin's lymphoma and told there was no cure, I felt so much fear," says Costanzo. "The circumstances may be very different, but we all feel similar when we face a big life challenge. We're afraid. We can use our common fears to cultivate compassion for ourselves and one another."
While undergoing chemotherapy, the author of The Twelve Gifts of Birth wrote a follow-up story about how to use life's gifts for healing. And, she gathered touchstones for The Twelve Gifts, which include affirmations, anecdotes, and activities.
"Touchstone activities anchor good intentions of the mind in our physical bodies," says Costanzo. "They're my favorite things to share at workshops. They always seem to unblock obstacles, release 'dis-ease,' and stir hope."
The inspirational author suggests doing at least one touchstone activity every day. Here are three examples:

Fear Melt. When feeling fear, hold an ice cube. Notice the cold. See the ice as a symbol of fear. With the intention to let fear soften and melt away, set the ice in a cup and go about your day.
R & R Release. Go outdoors with a bottle of bubbles, intending to release regrets, resentments, anger, judgments, worries, and control issues. As you inhale deeply, imagine drawing all that up from within and releasing that energy into the bubbles you form with the out-breath. Repeat at least three times.
Uplift Mist. Spray the air in front of you with purified water or rose water. With the intention of choosing wisely in all areas of your life this day, step into the blessing mist.
Charlene Gorda Costanzo is an award-winning author, workshop facilitator, wife, mother, and grandmother. She holds a B.A. in Philosophy from St. Bonaventure University and an M.A. in Spiritual Psychology from the University of Santa Monica.
The Twelve Gifts series of books began in 1987 when Charlene wrote The Twelve Gifts of Birth as a life message for her own, then teenage, daughters. Twelve years later she published the book and began to discuss its message in schools, shelters, prisons, churches, and hospitals throughout the United States.
The Twelve Gifts for Healing was written while Charlene was in treatment for advanced non-Hodgkin's lymphoma in 2001. The Twelve Gifts in Marriage comes from the ups and downs, ebbs and flows, and hurts and healings that are part of every long-term marriage. The Thirteenth Gift is a novella that celebrates and nurtures the gift of wonder. Touchstones: Stories for Living The Twelve Gifts will be released in September, 2012.
To learn more about Charlene Costanzo and The Twelve Gifts, please visit http://www.charlenecostanzo.com.