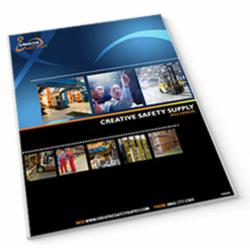 SafetyTac.com is offering website visitors the chance to grab the new Floor Marking Standards Guide at no cost.
Lake Oswego, OR (PRWEB) May 21, 2012
Thriving manufacturing and distribution companies that utilize either a small storage area or a huge warehouse know that ensuring that the efficient and safe flow of the goods is critical to business. This is where OSHA floor markings standards plays an important role. Areas where workers and equipment need to be should be clearly defined in order to safeguard the people from unwanted mishaps and prevent product displacement that upsets the process.
The installation of floor markings is deemed as a practical way of creating a better organization and inventory, while directing smooth traffic flow within the premises where goods, vehicles and workers come and go.
SafetyTac.com provides industrial floor tape products that hold up to the heavy traffic in large busy facilities. The company is known for creating highly visible and durable products that withstand the abuse of even the heaviest warehouse traffic.
SafetyTac.com presents an array of products include the Industrial Floor Tape with strong adhesive and double tapered edge; the SafetyTac EDGE Industrial Floor Tape that holds up to most forklift and tow motors; the SafetyTac Hazard Floor Marking Tape that handles forklift traffic and truck traffic; the SafetyTac Lean which is suitable for moderate traffic facilities; the customizable SafetyTac Shapes that hold up to heavy traffic and harsh conditions; and the SafetyTac Smart Stripe Tape that will not stretch, curl or warp when applied.
Adhering to safety and regulatory standards, SafetyTac.com is offering website visitors the chance to grab the new Floor Marking Standards Guide at no cost. The PDF guide observes the mandates of the Occupational Safety and Health Administration and American National Standards Institute in terms of the ANSI and OSHA floor markings size and color charts.
SafetyTac.com allows for an easy and convenient online shopping, featuring full color photos and complete product details, as well as price information. Visitors may also subscribe on the website to receive newsletters containing industry bulletins and announcing new product arrivals.
For top caliber floor marking products to direct smooth warehouse or storage room traffic, business owners should visit http://www.safetytac.com and get the free Floor Marking Standards Guide by simply filling out a form on the website with their details.