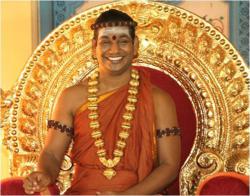 Los Angeles, California (PRWEB) May 19, 2012
Talking to media-persons at Madurai Aadheenam, Paramahamsa Nithyananda shared his plans for the 1500-year-old socio-spiritual organization. He said that within a week, a free medical camp would be organized, with more than 20 doctors volunteering their services. Nithyananda also reminded the press that currently more than 2000 persons were being provided free food everyday, thanks to the annadaanam program of the Adheenam.
Later Nithyananda answered questions from the media on various issues surrounding his appointment as the 293rd pontiff of Madurai Adheenam and some controversies surrounding the same.
Nithyananda reiterated that the 'Madurai Adheenam Protection Force' (a conglomerate of 40 support groups) would pursue all possible legal forms of protest to counter the protests planned by a few individuals who called themselves the 'Madurai Adheenam Retrieval Committee'. He made it clear that all actions by the Madurai Adheenam Protection Force would be peaceful and in self defense only. He also pointed out that the most recent protests staged by the self-styled Madurai Adheenam Retrieval Committee against his coronation ended in a whimper, where out of the declared 2000 protesters, only a couple of hundred actually turned up, most of whom were hired hands who left without taking part in any form of protest.
Presenting the letter of support from organizations working for the welfare of the blind in Madurai, Nithyananda promised to continue his efforts to ameliorate the conditions of the weak and disadvantaged members of the society. With regard to the four temples in Thanjavur District, India, that are currently being maintained by Madurai Aadheenam, Nithyananda made it clear that the revenue from these temples would be used exclusively for various development activities in the villages where they are located.
About Nithyananda:
His Holiness Paramahamsa Nithyananda was recently appointed as the successor and 293rd pontiff of the world's oldest most ancient and richest Hindu organization, Madurai Aadheenam. He was recently named as one of the world's top 100 most spiritually influential personalities of 2012 by the reputed esoteric magazine 'Mind Body Spirit' from Watkins.
Paramahamsa Nithyananda is a global leader in yoga, meditation, kundalini awakening enlightenment science. Clear, dynamic and modern in approach, Nithyananda's teachings have already transformed 15 million followers in 150 countries with the fastest growing spiritual community around the youngest incarnation. Paramahamsa Nithyananda bridges modern science with ancient vedic science through cutting edge research in Yogic sciences using modern neuro psychology, medicine and quantum physics.
Revered as a living avatar (divine incarnation) by millions worldwide, Paramahamsa Nithyananda is the most-watched spiritual teacher on YouTube.com with more than14 million views. He is also the author of more than 300 books published in 27 languages.