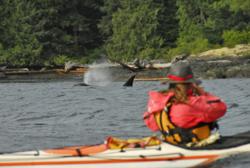 As if kayaking with orcas wasn't enough, a free night at a stunning B&B is like icing on the cake!
Vancouver Island, British Columbia (PRWEB) May 23, 2012
The Broughton Archipelago, part of a coastal marine park near the north end of Vancouver Island, is an area rich in ecological diversity, cultural history and scenic landscapes. Framed by a backdrop of snow capped mountains and renowned for it's quietude, it is a utopia for kayakers from around the world. Waters flow from the archipelago to Johnstone Strait, a deep and narrow glacial passageway where paddlers can experience the wilds of the British Columbia coast, interrupted only by the shrill cry of the majestic bald eagle and a splash from a leaping salmon in the warm summer months. Even the fish are happy to be here!
This unique area is home to the world's largest resident pod of Killer Whales, as well as a wide variety of other marine life, including minke, humpback, and grey whales, pacific white-sided dolphins, dall's porpoises, harbour seals and many more. It is an ideal setting, providing the best prospects for kayaking with killer whales.
Spirit of the West Adventures has 17 years of experience helping curious guests explore the sea kayaking Vancouver Island prides itself on. Their Johnstone Strait Expedition, a 6 day - 5 night journey is the only "one-way" expedition style tour offered in the area, unique in its exclusivity of traversing new territory each day (with no back tracking) and in presenting a chance to kayak with Orcas.
Starting at a remote floating lodge in the breathtaking Broughton Archipelago, guests spend their days paddling through the desolate northern islands before entering Johnstone Strait – the realm of the Killer Whales. Treated to the knowledge of experienced and enthusiastic guides, who know the area and it's inhabitants well, guests are given an opportunity to both learn and ask questions about the wildlife and history of the area. With trips designed to cater to all levels of experience and abilities, Spirit of the West helps ensure equal opportunity for anyone wanting to discover the treasures of Johnstone Strait and the Broughton Archipelago while kayaking Vancouver Island.
If the promise of adventure in the tranquil waters as you kayak British Columbia isn't enough incentive to pack your bags now, Spirit of the West Adventures is also offering guests one free night of accommodation at the beautiful Harbour House Bed & Breakfast on Quadra Island when they book any Johnstone Strait Expedition before July 1st. The Harbour House is a cozy retreat in an idyllic setting, offering beautiful gardens, panoramic ocean views, delicious food and a friendly host. With amenities within walking distance and free pick up to the Johnstone Strait Expedition starting point, the Harbour House is a great place to begin your vacation.
For more information about kayaking on Vancouver Island visit http://www.kayakingtours.com or contact Breanne or John by e-mail at info(at)kayakingtours(dot)com or phone at 1-800-307-3982 or 1-250-285-2121.
About Spirit of the West Adventures
Spirit of the West Adventures, located on Quadra Island, British Columbia, has run multi-day kayaking tours in the Vancouver Island area for over 17 years. Spirit of the West offers sea kayaking tours around Vancouver Island including Johnstone Strait and the Broughton Archipelago, Desolation Sound, and the Nuchatlitz. International sea kayaking destinations include Chile and Greenland. Spirit of the West Adventures is a member of 1% for the Planet.