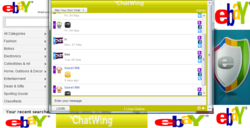 Columbus, OH (PRWEB) May 19, 2012
Many people are now finding their favorite gadgets and materials with the help of eBay. This online bidding site has become famous because of the thousands of feedbacks and recommendations it received for many years. Recently, eBay buyers and sellers are discussing prices and details in a website chat app known as Chatwing. This application specializes in providing a unique and long-term chatting experience for lots of people in chatrooms.
Many people are now using Chatwing ever since it was released—gamers, bloggers, online entrepreneurs, advocates, graphic designers, and many more. This is because of Chatwing's straightforwardness and ease of access. In the latest version of Chatwing, people can now sign up easily, allowing them to chat right away. Adding to that, the latest chat widget can hold up to 600 chatters. The new Chatwing version has a more professional look, and this is one of the reasons why the eBay crowd have chosen it as a hang-out site.
Chatwing's development team have noticed that some bloggers are using the widget as a customer service array. Through this, eBay buyers and sellers can connect with each other. As a bonus, they get to use Chatwing's Facebook log-in support. Now, instead of just sending messages, the eBay crowd can send out Facebook invitations to each other. Chatwing also promises one hundred percent web chat support in case there are glitches and occasional bugs. Also, in the main website, people can try out the embedded shout box. They can post their questions in real-time, since there is always an active admin.
To make conversations interesting, eBay buyers and sellers can now use a large arsenal of emoticons and avatar displays. Using these embellishments does not affect the overall speed of chatting. Chatwing users have also admired the widget's quick installation process. The installation takes only few seconds and the widget can go live right away.
About Chatwing.com
Chatwing.com has developed live chat software for websites and blogs. It caters to different online communities due to its high rate of connectivity. Everyone can create a customizable live free chat widget in 1 minute or less. Users have the ability to customize the size, color, and fonts and chat live. The ability to chat via social media accounts such as Facebook and Twitter enable Chatwing to offer a personal and unique real-time experience to all sites. Chatwing is 100% free and very easy to use.