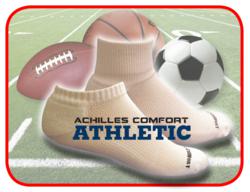 National (PRWEB) May 30, 2012
This week, Achilles Comfort LLC made available the athletic sock designed for athletes to effectively prevent foot abrasions simultaneously reducing moisture and odor. Currently, the new athletic socks are available online and Achilles Comfort is in negotiations with big box retailers to deliver mass distribution nationwide; with plans to potentially license the technology to industry heavyweights in the future. The group behind the clever sock and brand is excited to launch their athletic sock as well as their online store making the product directly available to consumers for the first time, bringing a level of comfort to consumers that may have been unnoticed or subtle in current socks available on the market.
No sock currently on the market has blister technology similar to the Achilles Comfort athletic socks. Athletes that wear cleats for any number of intense sports are being offered a solution to moisture management, heel irritation, and odor and the occurrence of blisters. Soccer, football and baseball are only a few sports that will benefit from an athletic sock that has preventative technology engineered into the yarns of the fabric and will last the life of the socks.
They have achieved this by inserting a cushion on the inside heel of the sock with a cool, breathable jersey to add comfort at the point of contact and a durable adhesive to the other side for permanent placement offering maximum protection for the areas where blisters commonly occur. Further, other features include advanced compression, promoting circulation; carefully crafted pro-grade fabrics designed for maximum moisture management and insulation control with proDri technologies, often referred to as a 'built-in deodorant effect'. Additionally, Achilles Comfort has incorporated antimicrobial technology into manufactured high-grade yarn, effectively reducing odor caused by perspiration.
The sock and hosiery industry accounts for billions of dollars annually with no signs of slowing down. Previous prototypes were designed and redesigned after careful persistence and consumer feedback. The evolution of the product is now defined by features that are leading the athletic sock industry in ways few could have foreseen 5-year ago when the concept behind Achilles Comfort began.
With plans to build alliance and potentially license the new athletic sock, Achilles comfort is excited to offer consumers this next generation sock available now.
About Achilles Comfort LLC– Established in 2009 by President Ricky Hasan and Vice President Christian Arakelian, Achilles Comfort is a brand dedicated to improving quality standards, preventative technologies and athletic performance within the sock and hosiery industry. Achilles Comfort supports peek athletic performance and eliminates blisters and foot abrasions, helping consumers nationwide say 'goodbye' to blisters forever. For more information visit: http://www.achillescomfort.com