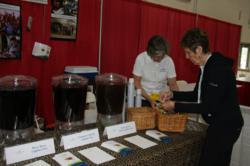 Clovis, CA (PRWEB) (PRWEB) May 21, 2012
In an effort to raise awareness of the stark need for medical care in rural parts of Africa, Compassion Tea Company (http://www.compassiontea.com) attended the 100 year anniversary celebration of Girl Scouting in the United States held at the Alameda County Fairgrounds in Pleasanton, California, on May 5, 2012. Four members of the Compassion Tea team served over 3000 tea tastings during 7 ½ hours while sharing the company's purpose of donating 100% of after-tax profits to parent organization, the CompassioNow Foundation (formerly known as CareNow Foundation), in order to send much needed pharmaceuticals, medical supplies, and staff to clinics in Kenya, Zambia, Tanzania, and South Africa.
Girl Scout members promise to "Serve God and … country, to help people at all times, and to live by the Girl Scout Law." While much of today's organization is focused on "girl power" and the advancement of living an environmentally conscientious lifestyle, the One Hundred, Fun Hundred Girl Scout event also highlighted other opportunities for girls to serve people. Compassion Tea was one such booth.
Anne Kennedy, Lee Kennedy, Donna Cribbs, and Linda Taggart brewed and served three kinds of Compassion Tea: Peach Apricot (black), Cinnamon Chacha (rooibos), and Berry Berry (herbal). The teas were iced, highlighting some of the company's upcoming summer offerings. The team also handed out literature describing the company's mission and offerings including information about the company's membership program. (http://www.compassiontea.com/memberships)
The One Hundred, Fun Hundred celebration was organized by Girl Scouts of Northern California and drew participants and vendors from all over the country and from Canada. The event's 20,000 pre-sale tickets sold out and tickets were available at the door. Many scouting troops camped out on the fairgrounds grounds. Girls could participate in scuba diving, rock wall climbing, zip lines, BB gun shooting, and archery practice. Many crafts were available for hands-on experience, such as a booth to make a doll or another booth to make pirate rope. Entertainers from Disney and from local troops added to the event's festivities. The event ended with a fireworks display honoring the 100 years of Girl Scouting.
In an effort to "share tea, save lives," Compassion Tea Company sells premium teas online and donates 100% of its after-tax profits to the CompassioNow Foundation. Through the sale of tea and tea memberships and its innovative relationship with CompassioNow, Compassion Tea Company provides medical care to "the world's least served."
About Compassion Tea Company
Compassion Tea Company is known for its excellent products and services and is widely recognized for donating 100% of its after-tax profits to a charity that brings health and healing to individuals and communities in rural Africa. The relationship between Compassion Tea Company and its parent organization, the CompassioNow Foundation, is an innovative linkage between premium products and funding for a great cause.
Linda Taggart, Director
Compassion Tea Company
855-SHR-TEAS
http://www.prweb.com