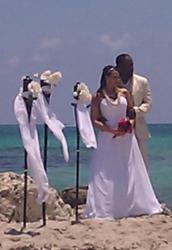 Las Vegas, NV (PRWEB) May 22, 2012
Feeling USA is proud to present the Spring/Summer bridal lingerie collection. They have been selling lingerie online since 1996, and cater to brides worldwide. A bride wants to look sexy on her wedding night and during her honeymoon. Most brides spend a lot of time planning their weddings, and have little time left to shop for lingerie, sleepwear and beachwear to bring on the honeymoon.
That's where FeelingUSA.com can help; they carry a complete range of bra and panty sets, sweet little baby dolls, flowing satin nightgowns, lace and charmeuse robes, and, of course, super sexy panties--crotchless, boy short and thong style. A different garment for every night. The colors range from innocent white, pastels to more intensive blues, reds and sultry black to seduce him.
The selection of course also includes bridal corsets, sizes ranges from a size 32 to a size 50. A corset will enhance the female curve and is a very popular item to be worn under a wedding dress. It pushes the bustline up and cinches the waist to provide an hour glass figure. If a bride decides to wear a strapless wedding dress, she will most likely need a corset to embellish her bustline. Bridal stockings and wedding garters.
A new bride also wants to bedazzle him during the day, our beachwear includes sexy dresses, bikinis perfect for an Island vacation. FeelingUSA.com has everything you require for a perfect honeymoon.
June is the busiest month for weddings. Although in recent years August has become just as popular. The reason why so many couples tie the knot in June goes way back to ancient Roman traditions. The goddess Juno, was considered to look after women and marriage, and it was believed that she would be pleased with a June wedding and would bring good luck. Wearing a veil also goes back to a Roman custom. This ancient tradition was supposed to hide a brides face to keep evil spirits away. The custom of wearing a wedding garter also goes way back to the early middle ages. Nowadays the groom removes the garter and throws it to the groomsmen. Most brides wear two garters, one as a keepsake and one for the single male guests.
FeelingUSA.com is a large lingerie store on the web, and retails lingerie, corsets, sexy clothing, costumes, bikinis, stockings, bodysuits, and high heel shoes, also specializing in plus size lingerie, as well as leather, vinyl, and latex. The company was founded in 1996 and carries close to 6'000 items in the online lingerie store. FeelingUSA provides secure e-commerce, accepts all major credit cards, and also offers Google and Paypal checkout. Worldwide shipping, free within the US, great prices, lingerie on sale, discounts, free panty, and price guarantee. The team at FeelingUSA Lingerie loves to assist and can help choosing the correct size, shipping methods, and any other question about buying lingerie. FeelingUSA makes it easy to bring sexy back into every women's life.