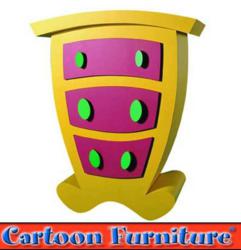 I absolutely love what you guys have going on, Lindsey Peterson - Simply the Sweet Life Magazine
Yucaipa. CA (PRWEB) May 21, 2012
Cartoon Furniture will donate a portion of the proceeds on all Cartoon Kidz whimsical accessories items to children's organizations, children's hospitals and animal rescues throughout the United States.
Randall and Sharon Porter, founders of Cartoon Furniture, love their animals and have rescued quite a few. They wanted to do something to help these people and groups that spend so much time and effort rescuing and saving dogs, cats and all animals on a daily bases. So they introduced Cartoon Kidz, a line of whimsical, colorful and fun items that include clocks, soap and sanitizer squirts and money banks and many new items will be introduced over the next few months. The Cartoon Kidz line is filled with products in the shape of wonderful whimsical dogs, cats, fish and many other animals. So the idea of giving to organizations seemed like a great idea and a great way to help some four legged friends at the same time. They will also be extending the same program to their sister company, Gershwin & Gertie a line of recycled, reclaimed furniture and décor. At Gershwin & Gertie a portion of all proceeds will be donated to these wonderful organizations.
Since Cartoon Furniture is a line directed to the children's market they also wanted to help children's organizations and will do so by donating to children's hospitals, and charities.
For the entire month of May Cartoon Furniture will be supporting Hope For Paws Animal Rescue and Gershwin & Gertie will be supporting Canines For Disabled Kids.
Starting June 1, 2012 a customer will choose a organization from a list that they would like to support. They will simply type the name of that organization in the customer comment section of the shopping cart when checking out and a portion of that sale will go to that organization. The list will include, Hope For Paws Animal Rescue, Kids in Distressed Situations, Canines For Disabled Kids, Victoria Burrows Star Paws Animal Rescue. More charities will be added over the next few months.
"I'm so excited about this program and I hope even if it's in a small way we can help," said Randall Porter, President of Cartoon Furniture.
About Cartoon Furniture: The company has one goal: to make you smile by turning everyday items of furniture and accessories into creative products that are fun, safe, long lasting, and above all, inspirational. Their creative designs incorporate cartoon inspired shapes and characteristics that are totally unique providing years of enjoyment and happiness to both children and adults. Their realism and attention to detail is unsurpassed.
They take great pride in the design and production of each piece of furniture to ensure that they can withstand many years of rigorous use. The furniture is solidly constructed and is finished with a tough multi-layer, smooth painted finish. They stand behind the quality of their products with one of the best warranties in the industry.
Learn more by visiting http://www.cartoon-furniture.com& http://www.gershwinandgertie.com.