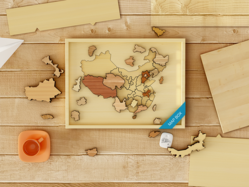 There is few developers in China pay such attention into their user experience and content, this is the one did. If you have kids and hope them to touch magical China, you won't be disappointed.
— From a 3-year-old boy's father.
(PRWEB) May 21, 2012
Map Boxes is an interactive geography atlas for iPad that invites kids to explore the regions of China, discovering hundreds of fascinating features of the country.
Map Boxes is enhanced for the new iPad and is compatible with iPad 2 as well as the original iPad. The rich and beautifully detailed graphics take full advantage of the amazing new high definition retina display.
Explore the Chinese historic interests and landscapes. Meet different people around the country and find out their local customs and practices. Encounter amazing wildlife and plant.
This educational app presents:
(1) an interactive puzzle map that kids can touch, read and listen;
(2) hundreds of hand-drawings by designer representing nature, people and culture;
(3) an evocative soundscape with ever-changing effects, i.e. Panda;
(4) extensive written text by Wikipedia and spoken narration by local voice actor;
(5) a "pronunciation and text" button to switch four languages at any time: English, Japanese, simplified and traditional Chinese.
Get ready to explore China for fun. It is Map Boxes time!
There is one more thing important to know: Finish the puzzle map correctly to find the treasure of knowledge.