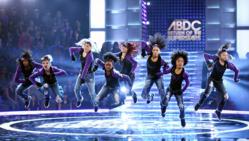 "@FLAVAHZcrew, you're incredible. Keep doin' your thing. I'll b watching Wednesday night!" - Janet Jackson
Los Angeles, CA (PRWEB) May 21, 2012
Receiving praise from Janet Jackson, Zendaya Coleman, and Lil Mama, 8 Flavahz is the hottest young dance group ever to hit the stage of MTV's America's Best Dance Crew.
Ranging in age from 10-17 years old, the girls from Honolulu, Hawaii, and Los Angeles, California used Skype to practice their moves prior to auditioning for the show. Together, they became the crew to beat on season 7 of MTV's "America's Best Dance Crew" and brought down the house with the best performance of the season, their version of Madonna's "Vogue".
8 Flavahz are represented by one – time Michael Jackson choreographer, Courtney Miller Jr.
Be sure to tune into MTV on Wed 10pm to see if they make it to the top 4.
Booking Info:
Courtney Miller Jr.
(949) 371-5780