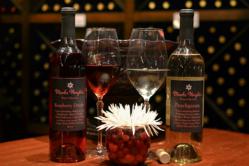 Most don't know the difference between a Washington and German Resling...they just want a great tasting wine
Dallas, TX (PRWEB) May 23, 2012
Marlo Wright Wine Company Official Launch Party - A Winegasmic Affair began promptly at 7 p.m. May 16, 2012, as people arrived in much anticipation to taste the released Fruit Wine Collection.
Marlo Wright Wine Company launched it's first flavor, Raspberry Drizzle, in 2010 alongside Wright's second book. "Originally intended as an accent to the book, it quickly has taken a life of it's own. One bottle has expanded to a Fruit Wine Collection that will include a total of twelve flavors," Wright said. Though, at this launch, two flavors were featured, Raspberry Drizzle, a blush wine, and Peachgasam, a white wine.
The Marlo Wright Fruit Wine Collection is different than most wine consumer are used to. Where traditional adjectives like oaky, tart, sweet, and other words are typical to traditional wines, these have taste. It is easy for buyers to identify a flavor than a vineyard. "The average wine drinker wants a great tasting wine. Most don't know the difference between a Washington and German Resling. Most don't know that Moscato is a type of grape. We just want people to feel confident in spending their hard earned money on a bottle of wine they know will taste great," Marlo explains.
Marlo Wright Wine Company has not only made it easy for the consumer to identify their wine by flavor, but made shopping for wines easier with the introduction of their Wine of the Month Club. Customers are able to order a monthly supply of bottles and have them shipped direct to their door from their distributor.
Later this fall, the Marlo Wright Wine Company will release their next addition, Cherry Popper, a red wine.
For more information about Marlo Wright Fruit Wine Collection http://www.tastesomethingdifferent.com