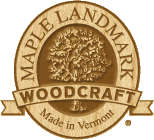 Elma, New York (PRWEB) May 21, 2012
Maple Landmark delivers all US made toys to the Made In America Store. The Made In America Store brings 100% American made products from all over the nation to one place in Elma, New York. Maple Landmark brings the higher quality that people come to expect from American made products.
The Made In America Store stocks a wide range of products from Maple Landmark including Name Trains, Baby Rattlers & Teethers, Novelty Train Whistles, Educational Memory Games, Made-By-Me Activity Kits, board games and even some house decorations & Christmas ornaments. The 100% American made toys and decorations are made with wood, giving each product a vintage look with the added benefit of durability.
Customers looking to shop for US made toys from Maple Valley can visit http://www.MadeInAmericaStore.com or call 716-652-4872 and talk to a Made In America Store representative.
One of the best selling items at the Made In America Store are the Name Trains, which bring a new way to present someone's name in a vintage fashion. The Name Trains are made of wood and each letter represents it's own 'train car' which are on wheels and all have magnets on both sides. The letters come in a range of colors and all are universal with each 'train car'. Maple Landmark even brings a range of different 'train cars' like cabooses, engines and other neat ideas. Every 'train car' fits on a fitted 'railroad' that can go straight, make tight or wide turns and even tracks that change elevation.
Maple Landmark tales pride in being one of the few who manufacture 100% American made toys. The company from Middlebury, Vermont, makes a note to let all their consumers know that they get all of their components locally, not 10,000 miles away.
The Made In America Store is located at 900 Maple Road in Elma, New York and is committed to selling 100% American manufactured products. You can visit http://www.MadeInAmericaStore.com for more information or shop our catalog of over 290 vendors that are devoted to producing USA made products. All US military personnel both active duty and retired receive a discount every day. Consumers can also keep up to date news articles, events, photos and contests with Facebook, Twitter, Google+, Pinterest and Tumblr!