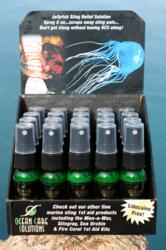 We are confident our 5% acetic acid jellyfish sting relief solution will deliver safe and effective pain relief from jellyfish stings"
Ft Myers Beach, FL (PRWEB) May 25, 2012
Ocean Care Solutions is a company specializing in the development, distribution and sales of marine sting first aid kits. These kits are designed to meet medical and marine science first aid protocols for marine stings. This includes their Jellyfish Sting Relief Solution manufactured with 5% acetic acid as the active ingredient.
"We knew when we started to develop our jellyfish sting relief formula it had to be safe to use, it had to work effectively and it had to be made in America. Most of all, based on years of scientific and medical research, we knew we had to start with a high percentage level of acetic acid", claims Kevin Freeman, OCS President. "The more we understood about the variety of stinging species of jellyfish, the more we found 5% acetic acid was central to neutralizing the toxins to provide pain relief."
Scientific and medical research publications authored by Emergency Dept. physicians from UC Davis ( Dr. Glen Daubert/Cnidaria Envenomation Treatment & Management), Stanford Medical (Dr. Paul Auerbach/"Medicne for the Outdoors and past medical director for DAN), Georgetown Medical (Georgetown Emergency Department Pediatrician Tamara Katy, MD), the National Institutes for Health, the World Health Organization and the Mayo Clinic independently and collectively recommend the use of 5% acetic acid. The list affirming the use of 5% acetic acid continues with internationally recognized medical and scientific authorities in medicine and marine biology. "It's important to understand that while household vinegar claims and states on the bottle to be 5% acetic acid, not all brands are even close to that level", says Freeman. "We wanted a minimum of 5% acetic in our product and verifiably safe for all skin types from young to old," continued Freeman.
The American Red Cross and the American Heart Association also recently announced updated recommendations for the treatment of jellyfish stings. These First Aid Guidelines are being published in Circulation: Journal of the American Heart Association. "Volunteer experts from more than 30 national and international organizations joined the Red Cross and the American Heart Association in reviewing 38 separate first aid questions. Experts analyzed the science behind them and worked to reach consensus on the treatment recommendations. In looking at the treatment of jellyfish stings, the revised guidelines reaffirm the recommendation to use vinegar to treat the sting. The vinegar neutralizes the venom and may prevent it from spreading. After the vinegar deactivates the venom, immersing the area in hot water for about 20 minutes is effective for reducing pain".
Australian waters are home to some of the most venomous marine life including the potentially deadly Irukandji and Box jellyfish. The Australian Resuscitation Council is considered The medical reference for the United States Lifesaving Association has the source for the latest medical protocol in providing effective first aid treatment of marine stings and it also recommends 5% acetic acid. Ocean Care solutions is a member of the USLA. ARC reports vinegar as the most suitable treatment ruling out previous treatments such as rubbing sand in the wound. Queensland Health, renowned marine sting authority and center of many scientific research projects has dispelled myths about the best treatment for jellyfish stings by recommending vinegar in a major research report released last year.
Kevin Freeman states, "Scientific and medical authorities and published journals were very clear on 5% acetic acid being the most effective application in providing jellyfish sting pain relief on a variety of jellyfish species. Our goal was to create a convenient, spray-on product thick enough to stay where it's sprayed with a higher acetic acid content than typical household vinegar. More or less a very viscous, clinically strong, vinegar that can treat the sting and the salve damaged skin at the same time", according to Freeman. "Given the minimum level of acetic acid in and the lotion-like feel to our product, you would have to use a half gallon of house hold vinegar to get the same effect as a few sprays of our jellyfish sting relief," added Freeman.
There simply isn't another 5% acetic acid product like ours on the market", claims Freeman. We don't use topical anesthetics like some products. Our sting relief spray delivers real first aid rather than covering it up; all the while providing a skin component to sooth and help damaged skin. Just spray Ocean Care Solutions Jellyfish Sting Relief Solution on the sting for immediate, fast acting relief and in about 3-5 minutes, scrape away the neutralized stinging cells from the wound with a flat edged card and your done..it's that easy and effective", states Freeman. "Our team at Ocean Care knows first hand because we tested our products on each other to be sure before we released it for consumers," according to Freeman.
Ocean Care Solutions full family of marine sting first aid products are available at retailers or on-line.