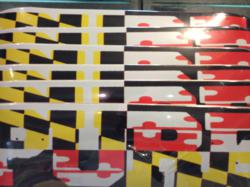 Once the deck came into the shop so many people wanted a piece
Annapolis, Md (PRWEB) May 22, 2012
Back in the winter of 2011, shop manager Josh Menocal and his girlfriend came up with idea of the graphic, and assistant manager Chris Agurirre put the idea on a skateboard. Once the graphic was finished, Pure Board Shop posted a teaser pic on their Facebook and the fans went wild, wanting to know nothing but when they would be able to get there hands on the Pure Board Shop MD Flag deck.
Once the decks came into the shop so many people wanted a piece. "I think we had more people buy the deck just to hang on the wall, and that's when we realized that people really appreciated the graphic," says shop manager Josh Menocal. The combination of Maryland pride and shop loyalty that made the deck a hit and had people wanting more and keep asking when the next shipment would be available.
After having great success with the first run, Pure Board Shop had to bring in a second run, and this time expanding to a 5th size of 7.75. "We had to give some love for the little guys out there," says shop owner Robby Roberts. Not only did Pure Board Shop bring in another size, but they also managed to lower the price from $40 to $35 a deck with griptape.
The MD Flag deck is now available in store and will be available online at http://www.pureboardshop.com soon.