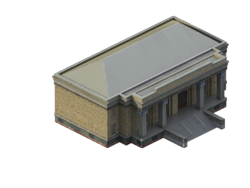 City Federation Allows You to build magnificent cities with 3D like graphic buildings or destroy them with drone attacks, blackmail, mayhem and war.
New York, NY (PRWEB) May 21, 2012
City Federation announced today the global launch of City Federation, their flagship ground breaking social city building strategy game. Allowing anyone to build not only their dream cities but their dream nations complete with amazing near 3D graphics, the game is unique in the social gaming field.
CityFed is packed with features that allow any player to build as many cities as they wish without the cartoon look of most competitors in the social gaming field. Players can interact with friends and build amazing 3D like buildings in their cities all while competing on a global scale to become the Top Entrepreneur, Greatest Leader or even Top Community Activist. Complete with bribery, extortion and conquest the game is set to allow players to be in any role they choose in life.
Players can enjoy drone attacks and let out some aggression by individually destroying buildings at will, or they can remain at peace forever and never have to worry about war or mayhem. Your world is your own in CityFed, to build, destroy learn, grow and make friends world wide doing it all.
"City Federation allows players to play any role they prefer, the city builder, the war leader or even the community activist or knowledge hacker," stated Mr. Lodispoto, the creator. "All actions within City Fed add community points and these allow players to protest in cities and make in game money doing it, including blackmailing others to not Protest or Hack or invade cities. This allows players to create their own worlds, or simply have fun learning and taking part in the community."
The game is in Beta release now and playable on Faceboo k and on the website cityfederation.com. "We are just weeks away from completing the game but we hit a major obstacle in the mysterious disappearance of our main flash programmer. This was after not giving us the code needed to allow others to complete work started. There are many copy cats in the social gaming field and with a game of this scope and all of the work put into it we simply do not want to see our game out there under some other company name months from now. Despite this challenge, we hope to complete the game in the coming weeks," stated Mr. Lodispoto.
About City Federation
City Federation Inc. was created exclusively for the creation of a series of city building war games all interconnected on a global platform. Plans to release several other war games in the next year are in the works and the design team is of a global scope with talent contributing from 6 continents.
Contact
Michael Lodispoto
Admin(at)cityfederation(dot)com
800-553-4174