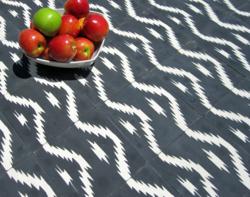 They have what we call a Wow Factor.
Gulf Shores, Alabama (PRWEB) May 22, 2012
Villa Lagoon Tile, a leader in floor and wall tile designs is proud to introduce four original and daring Ikat designs on tile.
For years Ikat designs have been used by interior and fashion designers to create colorful collections of fabrics. Its unique pattern combinations have provided designers with myriad of choices for commercial and home decors. Now designers and architects can incorporate the Ikat design on floors and walls.
The Ikat tile designs are the creation of Lundy Wilder, owner and designer of Villa Lagoon Tile. Villa Lagoon's Ikat patterns are inspired from a style of fabric weaving that has been around for centuries and casually related to the popular 60's tie-dye designs. "These types of designs have always been a favorite of mine; ever since I took a textiles class in college," states Wilder. The designs Wilder has created deliver a definite unique take on traditional flooring, but considering the uniqueness of her cement tile business – it fits right in.
Villa Lagoon Tile specializes in cement tiles, which are easily recognizable by their vibrant colors and intricate designs. Cement tiles have been used for more than 100 years in homes and businesses around the world. Also known as Cuban tiles; Mexican tiles; or Moroccan tiles, they are a common site in Miami, Los Angeles and along the US southern border states. Likewise, cities in Spain, Italy and France have many public buildings and private homes where these remarkable tiles are used. Made from Portland cement; marble dust; and color pigments, cement tiles deliver an elegant and durable surface for floors and walls. "They have what we call a Wow Factor," says Wilder. "When guests see them used in a home or business, they almost always say, Wow, where did you get these floors. They definitely make a statement...we think it's a positive statement about the building or home."
The Ikat designs are presently available in the popular black and white version, however custom colors for the same designs are available. The tiles are 20cm x 20cm (8"x8") and weigh about three pounds each. Samples of the Ikat tiles and others are available by contacting Villa Lagoon Tile online-http://www.VillaLagoonTile.com or emailing: info(at)villalagoontile(dot)com or calling the office at 251-968-3375.
About Villa Lagoon Tile
Villa Lagoon Tile, Inc is an import floor covering design company that specializes in handmade custom-designed cement tiles. Located in Gulf Shores, Alabama, VLT provides custom tiles to clients in Europe; Australia; Canada; as well as the US. For more information and photos visit our website at http://www.VillaLagoonTile.com