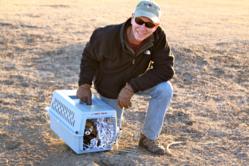 I spent my childhood hunting and fishing and roaming the fields and forests and streams of rural Iowa. I was blessed with the opportunity to work for the U.S. Fish and Wildlife Service.
-- Gary Frazer
Phoenix, AZ (PRWEB) May 22, 2012
As part of its ongoing interview series on endangered species, 'Endangered Earth Journal.com' is featuring an interview with Gary Frazer, the Assistant Director for Endangered Species at the U.S. Fish and Wildlife Service.
Frazer, who assumed the position of Assistant Director for Endangered Species at U.S. Fish and Wildlife Service in July 2009, is responsible for carrying out policy development and management of all aspects of the Endangered Species Program.
When asked if he is 'hopeful' or 'concerned' about the future for species facing extinction, Frazer responded, "It's my job to be concerned, but the remarkable recovery stories across the country are a constant source of optimism."
In the interview, Frazer also talks about how he became involved in conservation and endangered species related issues.
"I spent my childhood hunting and fishing and roaming the fields and forests and streams of rural Iowa. I was blessed with the opportunity to work for the U.S. Fish and Wildlife Service and was drawn to the challenge of protecting the species that are most in need of our help."
Frazer started his career with the U.S. Fish and Wildlife Service in 1984 as a field biologist in the Ecological Services field office in Virginia and has been with the agency for almost 30 years. His positions have included being a field biologist; an acting deputy chief for the Division of Habitat Conservation; a special assistant to the Assistant Secretary for Fish and Wildlife and Parks; the Deputy Assistant Director for the Ecological Services program and others.
You can find Gary Frazer's complete interview at the Endangered Earth Journal.com.
STATE OF THE WILD:
According to the International Union for Conservation and Nature (IUCN) the abundance of species in the world has declined by 40% between 1970 and 2000. Species present in rivers, lakes and marshlands have declined by 50%. The IUCN estimates of the 52,017 species they have assessed, 17,936 species are threatened with extinction.
Of the world's 5,490 mammals, 78 are extinct or extinct in the wild, and 188 are critically endangered, 450 endangered and 492 vulnerable. And 1,895 of the planet's 6,285 amphibians are in danger of extinction, making them one of the most threatened groups of species known to date.
The author of the Endangered Earth Journal.com, Endangered Species Journalist Craig Kasnoff, created the Endangered Earth Journal to "Promote the Plight of Endangered Species."