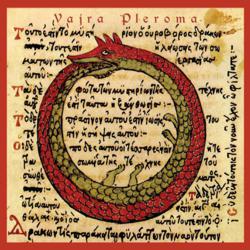 "A totally different sound out of New York!" "Annamaria believes that there is divinity in creativity, and that is obviously expressed in her music."
-Chris Hawke, American Thunder Radio
New York, NY (PRWEB) May 21, 2012
Vajra, in celebration of the release of their debut album 'Pleroma', is hosting an intimate listening party at The Beauty Bar in NYC on the Summer Solstice (6.21.12) at 10:30pm.
DJ Bride of Wire, DJ Sean Templar and a surprise DJ will preview selected tracks from 'Pleroma' and spin a collective frenzy of tunes sure to cast a spell on all the Gods and Goddesses and transport them to a nirvanic state of consciousness.
'Pleroma' explores paradox in a series of tenebrous and hypnotic songs, which were written during Annamaria Pinna's self-imposed exile in India. The album features a stellar line-up of musicians including Blake Fleming (ex-The Mars Volta) on drums, Doug Wright (The Dirty Pearls) on bass, and Will Dahl (ex-Harley's War) on guitar. It was recorded at Vacation Island Recording in Brooklyn by Matt Boynton (MGMT) and at Radiostar Studios in California by Sylvia Massy (Johnny Cash, Prince, Tool, System of A Down, Red Hot Chili Peppers). Massy co-produced the vocals and both she and Rich Veltrop (Tom Petty, Slayer, Rage Against The Machine, System of A Down) mixed. Tom Baker (NIN, Foo Fighters, Ministry, Prince) mastered.
The album will be available electronically on iTunes and Bandcamp, as well as in CD format at various retailers.
Following the album's release, Vajra will kick-off a run of live shows beginning on Friday, July 13 in NYC, the details of which will be announced soon.
The Beauty Bar is located at:
231 East 14th St. btwn 2nd Avenue & 3rd Avenue.