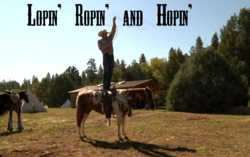 New documentary on cowboys and the western arts uses "crowd funding" and Kickstarter.com to support project.
New York, NY (PRWEB) May 22, 2012
A new documentary film, Lopin', Ropin' and Hopin' is raising funds through Kickstarter.com to show that much of the old cowboy way of life is still alive and well in America. Following the lives and artistry of several modern cowboy characters - from a national champion yodeler and cowboy poet to one of the country's most talented trick-ropers - Main Street Media, a non-profit organization based in Alexandria, VA, and director, Doug Morrione, seek to show an American way of life far from the frenetic modern digital age. "These people's stories and artistic repertoire represent a western frontier mindset both central to our cultural heritage and national identity – but at the same time misunderstood by many, unknown by most, and in these times of suburban sprawl and shrinking ranch lands, fading fast," explains Morrione.
Filmed on location in New Mexico, Colorado, Utah, South Dakota and Texas, the filmmakers will explore the growing trend of Cowboy Poetry gatherings and show authentic campfire poetry, storytelling, and musical performances on historic trail rides and pack rides. A significant portion of the footage will be filmed using state of the art high definition "point of view" cameras, positioned on the cinematographer's body from horseback to provide a more "real feel" of what riding horses is all about.
"Last summer in Chama, New Mexico," Morrione recounts, "I found myself exhausted and sore after a twenty-mile ride learning how to handle a horse over rough terrain from seasoned authentic cowboys. At the campfire that night, a cowboy gathered the attention of the group and stepped up on an old tree stump. The cowboy was Gary McMahan, and he proceeded to recite a seven-minute poem he wrote called A Cowboyin' Day. It was a simple tale of life on the range (coffee and biscuits at a sunrise breakfast, rescuing two injured yearling heifers, riding back to camp through the sage) but Gary's poem connected those intimate details to a larger story about the frontier and a portrait of the uniquely American cowboy psyche.
A businessman from Santa Fe sitting next to me turned and said, 'I don't know much about this kind of thing, but that seemed like the real deal right there.' When he discovered I worked in film and television, he said I would be a fool not to make a movie about these people. I agreed; this was something I had to do.
A few weeks later on a ride with cowboys at another ranch in Las Vegas, New Mexico, followed by a trip to the Heber City Cowboy Poetry Gathering, in Utah, I got to know a dynamic, fascinating and important group of people. They are authentic cowboys and critical stewards of America's precious western arts and oral histories."
In an effort to make good on his fireside promise, Doug has partnered up with Main Street Media and applied for grants from the NEH and NEA, and after reading about successful fundraising campaigns for similar film projects on Kickstarter.com, they recently launched their own. They now have just over a month to hit the target goal of $14,000 for production expenses, or return whatever money has been donated to that point.
"It's a great new platform for funding and many people have had great success raising capital for independent projects such as ours. We're hopeful, and pushing hard to get the word out," explained Nick Goldfarb, one of the film's producers.
The film is scheduled to wrap production by winter of 2012 and a release target is set for summer of 2013. More details and photos can be found at the film's official website: lopin-ropin-hopin.com