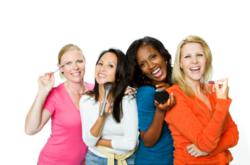 Client retention is so vital to building a strong and thriving business Unfortunately those that are constantly hemorrhaging clients run the serious risk of bleeding to death unless they are prepared to think of new ways to bring the business back to life
New York, NY (PRWEB) May 22, 2012
Last month, Denina the professional retail solutions manufacturer and distributor launched at the International Beauty Show in New York amidst grand fanfare and exceptional reception by salon professionals that attended the event.
Riding the crest of positive validation and buzz by the public, the innovative company focused on providing highly personalized and customized solutions for its partners and consumers is embarking on the first tour of its partner businesses entitled the New Look Fresh Boost Program which lasts until September 2012. The annual program was created to foster deeper relationships between salons and their present customer base by encouraging both the current and potential clients to enjoy learning new tips, tricks and techniques to help them take better care of themselves and improve their general well-being in a fun-filled, relaxed and celebratory atmosphere where they can learn, socialize and get pampered.
"Client retention is so vital to building a strong and thriving business. Unfortunately, many businesses that are constantly hemorrhaging clients run the serious risk of bleeding to death unless they are prepared to think of new ways to bring the business back to life. It costs businesses so much more to obtain new customers through traditional advertising than it does to keep the clients they have coming back." says Liz Slaughter, the CEO & Chairman of Denina.
"When businesses collaborate with Denina to produce events for the benefit of their customers; they are communicating a very powerful message to existing and potential clients. By engaging them directly they are essentially telling them that they are important, that they deserve to be celebrated and that their patronage is treasured. These are all powerful messages that will pay dividends in loyalty and word of mouth recommendation." She says.
Denina offers a variety of plans for partner businesses to select. Prior to the exciting marketing event, Denina sits down with the business to ascertain their current revenue goals and the objectives they would like to fulfill by participating. They will get a preview of the wide variety of products Denina offers in order to retain complete control over what is promoted to their customers.
"Denina only offers customized solutions so we leave it to the business to decide what they want demonstrated and marketed to their customers." Liz adds.
Denina helps to market and promote the partner business for the duration of each collaboration. The company energetically arranges cross-promotion opportunities with neighboring non-competing businesses in the local area. Denina handles all aspects of the event including planning, organizing, deco and implementing the marketing and public relations efforts.
The partner salon is responsible for providing the space to host the event and for inviting the clients they currently have on their mailing list. Salons will earn commission on any retail sales of products sold during the event. Customers will be treated to complimentary services, hor d'oeuvres and refreshments, enjoy mini workshops designed to teach them about important aspects that relate to caring for themselves holistically.
The events are focused on raising the confidence of women, improving their self-image and encouraging them to use their personal power. All events are rooted in celebrating individual style and personal choice. The New Look Fresh Boost manages to create a win-win proposition for all those that participate.
Denina creates mesmerizing beauty and wellness products and distributes them by forming strategic alliances with partner businesses serving their target consumers. The products are innovative and carefully differentiated from current market offerings while the retail solutions are accessible, customized and cost-effective. The company facilitates sales by organizing events and workshops that promote direct interaction between partner businesses and their target consumers.