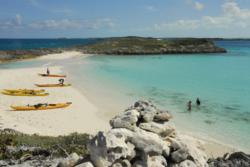 Life really can't get any better. Small groups, amazing destinations and Spirit of the West Adventures quality and service.
Vancouver Island, BC (PRWEB) May 23, 2012
A kayaker's idea of paradise can be diverse. Some dream of paddling up to a deserted sandy beach in the Caribbean and having a nap under a palm tree. Others covet paddling beside a towering iceberg listening to the ice crack and pop in the sun, or visiting the birthplace of the kayak and catching some fresh arctic char. Luckily Spirit of the West Adventures has perfected the art of international kayak adventure holidays and makes nirvana just that much more attainable.
Spirit of the West Adventures is a British Columbia-based company known best for their tours sea kayaking with whales in Canada. For the past 4 years they have also been offering a range of unique adventures abroad. The 2012/2013 line-up of tours promises not to disappoint.
These international tours allow access to stunning and remote areas around the world but with the comfort and safety for which Spirit of the West Adventures is known. Small group sizes – maximum of 8 guests per trip – mean personalized attention and service.
On the 2012 schedule is an August tour to northeast Greenland. Join Spirit of the West Adventures owner and arctic travel expert Rick Snowdon for an adventure of a lifetime to Scorsbysund Fjord. This tour takes visits the stunning and wild fjords of Greenland exploring by kayak. Greenland-style kayaking has taken off in recent years and this is where it all began. It quickly becomes apparent why kayaks are the preferred method of travel here as one explores shallow bays, cover distances with ease, gets to know icebergs up close and personal and silently glide through the waters watching the local wildlife which can include arctic fox, seals, sea lions and musk ox. Click here to see photos from their past expeditions to Greenland.
If warmer weather adventures are more appealing, then think about joining their extremely popular tours kayaking in the Bahamas. Think sun, sand, palm trees and shear bliss. Days are spent enjoying the crystal clear, sparkling Caribbean waters by kayak with ample time each day for swimming, snorkeling and beachcombing. It only takes one glance at photos from their tours here to understand why these tours are so popular! These tours run late January until the end of February.
To top of a year of excellent paddling adventures, March brings kayaking adventures in Patagonia. Not only is time spent exploring the wilds of Patagonia including remote hot springs, glaciers that drip into the sea and amazing wildlife, it is done from the comfort and convenience of a mothership, a small expedition ship. Each day the best places to kayak are chosen and then accessed using the big boat. This allows for covering a great deal of distance in a short period of time, the comfort of a warm bed and glass of Chilean wine each evening and gourmet meals prepared by the boat's crew. Life really can't get much better than this.
The bonus to joining one of these tours is that Spirit of the West Adventures is a member of One Percent for the Planet, so 1% of all their sales are donated to non-profit environmental groups dedicated. Kayakers get to explore some of the most beautiful places on earth and feel good doing it.
To learn more about Spirit of the West Adventures, their international kayaking adventures, their sea kayaking tours in Johnstone Strait, kayaking with killer whales or their environmental commitment, check out their website at http://www.kayakingtours.com.