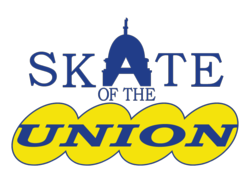 The USA's premier all-skating event!
Washington, DC (PRWEB) May 23, 2012
Hundreds of inline and roller skating recreational and expert skaters will be rolling into the Nation's Capital in June to participate in the USA's premier all-skating event, the 2012 Skate of the Union (SOTU). From June 21 to June 24, skate enthusiasts of all ages and abilities will take part in skateboarding, roller skating, inline events around the National Mall, RFK Stadium, Anacostia Park Skating Pavilion, Temple Hills Skate Palace and the Fairfax Police Department's Driver Training Track in Chantilly, Virginia.
SOTU's feature event will take place on Saturday, June 23 on the historic RFK Stadium campus as part of a worldwide Olympic Day celebration. With members of the US Olympic Speedskating team presiding, pro and elite-caliber skaters from across the U.S. vie for cash prizes in the National Inline Grand Prix race. Recreational and fitness skaters test their stamina in 5k and 10k races and a 1-lap (2.5k) Kids Fun Roll, while skateboarders will test their skills and have fun in a novel 100m Skateboard Sprint and 1-lap race.
The morning concludes with an Olympic Day Ceremony (Noon), followed by the final leg of the US Olympians' Walk to London campaign (12:15), which began at the LA Coliseum on April 7th. Walk to London has seen Olympic alumni from across the U.S. hosting 5k events in their communities to help build momentum for the 2012 US Olympic Team at the Summer Olympic Games in London this July. Joined by the US Olympic Committee, speedskating and figure skating Olympians will conclude the Walk to London by launching the Skate to Sochi (site of the 2014 Olympic Winter Games), leading a free 1-lap roll of the RFK grand-prix course, open to all skaters of any age, kind, or ability.
Complete details and a full agenda of the SOTU activities from Thursday June 21st's "Go Skateboarding Day" kick-off through Sunday June 24th's SOTU events to include a full marathon, half marathon, 10k & 5k for inline and rollerskaters can be found at http://www.skateoftheunion.org.
ABOUT DC-ICE
DC-ICE was established in 2006 by a former Olympic Speedskater, Nathaniel Mills, and families involved in the Kids On Ice Learn to Speedskate program at Fort Dupont Ice Arena in Washington, DC's Ward 7. Inspired by the success of pioneering two-time Olympic Gold-medalist Shani Davis, one of Mills' former pupils, Inner City Excellence programs now serve hundreds of children each year, many living east of DC's Anacostia River, through the popular I.C.E. Camp and out-of-school I.C.E. Academy, which inspires children to become Olympians in Life. More info can be found at http://www.InnerCityExcellence.org
c/o Greater Washington Sports Alliance ● 2300 14th Street NW. ● Washington, D.C. ● 20009 ● Tel 202-468-1214