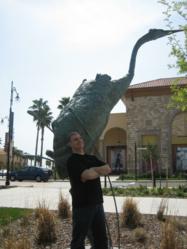 An author should be accessible to his audience.
Sacramento, CA (PRWEB) May 21, 2012
A short documentary of Lawrence BoarerPitchford by Riq Reed Productions yields some insight into the inner workings and history of the author. The author of In the World of Hyboria, and The Lantern of Dern Blackhammer discusses his outlook, his hopes, and his writing process.
Riq Reed Productions is better known for interviews within the hip-hop music scene. Recently though, Riq has expanded his venue to include other artistic formats, including the literati. Contacting Lawrence, Riq Reed Productions set up an interview at the author's Sacramento area home. Many probing and candid questions were asked; some about the business of writing and publishing, and some about the author and his past. Lawrence opens up about his creative process, his history, and those authors that influenced him. When asked about the interview he stated, "An author should be accessible to his audience. This interview gives my readers some insight into my method, where I've been, and how I view writing."
The BoarerPitchford documentary is comprehensive and revealing. Take the opportunity to view this exposé about the author at http://www.youtube.com/watch?v=8zrAHr9Joc0, or visit Lawrence's web site at BoarerPitchford.com and select video.
Also, the author wants his readers to remember that he's giving six months' worth of royalties to charity. Help him make the donation worth remembering by suggesting his works to fellow readers.
Lawrence BoarerPitchford lives and writes near the capital of California. His purpose is to write entertaining works, and grow a following. The author's web site is http://www.boarerpitchford.com where one can find information about the author, his latest works, works to be, and what he's up to. Also, he has a link to a blog that facilitates the discussion of fantasy fiction, and science fiction, and much more. Take a moment to investigate the blog and add comments.