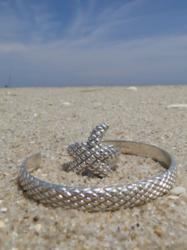 When we found out we were invited once again to be a part of the festivities, we jumped at it." - Katie Marsala, Owner of JSB
Point Pleasant Beach, NJ (PRWEB) May 21, 2012
For 15 straight years, 95.5 FM, WPLJ's Scott and Todd and the Morning Show have kicked off summer with their legendary summer blast-off party at Jenkinson's Boardwalk in Point Pleasant Beach. Last year was the first year Jersey Shore Bracelet Company had the opportunity to participate and experience the excitement of kicking off the summer.
"Last year we were thrilled to have the opportunity to participate in the 95.5 Summer Blast Off and welcome everyone coming into the event for the concert. It was an amazing experience and so much fun to meet people with a real love of the Jersey Shore", says Katie Marsala, Owner & Designer of Jersey Shore Bracelet Company. In addition to WPLJ, the WPIX Channel 11 Morning Crew, also takes part in the event, broadcasting the morning news live from the beach. Last year, Katie was interviewed by the ladies of Channel 11 and debuted the JSB Starfish Ring live on the WPIX Morning Show.
The Summer Blast-Off 2012 will be on Friday, May 25th, with doors opening at 6am. The WPLJ feature band will be Train. Check out WPLJ's web site for more information, and be sure to stop by the JSB table to check out all their products, including their newest release, the JSB charm bead.
Background Info:
The Jersey Shore Bracelet Company has launched a line of jewelry based around their signature cross-hatching pattern. The cross-hatching pattern is a simple yet stunning reminder of the beauty of the striations and patterns in the sand after an Atlantic storm. JSB offers sterling silver and 14 karat gold cuff styled Bracelets, and a one of a kind wrap-around Starfish Ring, along with their latest addition of a bead.
The jewelry is a beautiful keepsake to remind you of your summers down the Shore, hence their motto, "Shore Memories that Last Forever." Other coastlines have their own lines of jewelry, and now the Jersey Shore does as well. Check out the website for details and pictures of Jersey Shore Bracelet Beach Tour at your favorite beach spots.
Be sure to 'like' the Jersey Shore Bracelet Company's fan page on Facebook for a chance to win a piece from the JSB collection, and follow them on Twitter, JSBracelet. Stay up to date with JSB news and make a splash in fashion.