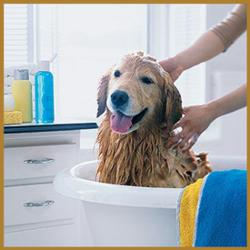 Organics mean a more comfortable life for our pets.
New York, NY (PRWEB) May 31, 2012
The Royal Pet Club's line of Royal Treatment Organic Oatmeal Infused Grooming Products has added a new formula: The Organic Oatmeal Fragrance-Free conditioner, a rich, organic blend of seven, 100% organic ingredients – oatmeal, honey, virgin olive oil, shea butter, almond, chamomile and coconut, blended to provide a gentle, non-irritating conditioning treatment for a silky, glistening tangle-free coat on all dogs.
Fragrance free, the new Organic Oatmeal Conditioner can be used with any Royal Treatment scent. Created in Italy, the pooch-soothing conditioning treatment also contains glycerin, oabassu oil, murumuru butter, acai and wheat protein for added softness and shine.
Since the ingredients are 100% natural, even dogs with the most sensitive skin and coats will be less likely to have an allergic reaction, as these ingredients have been used for centuries to naturally sooth sensitive and irritated skin. The added glycerin is one of the top moisturizing elements available, and murumuru butter – extracted from fruits – is rich in lauric acid, ideal for treating dry skin and hair while leaving no greasy residue.
The Organic Oatmeal Fragrance-free Conditioner joins the Royal Treatment's existing organic oatmeal-based products created specifically to soothe dogs' skin, which is three- to five-times thinner and more delicate than human skin.
"We are making certain that what we use to cleanse and groom our dogs doesn't hurt them," said Prince Lorenzo Borghese, founder of Royal Pet Club and the line of Royal Treatment luxury pet care products.
"We use organic ingredients in the Royal Treatment line of products specifically to decrease any chance of an allergic reaction. Organics may be considered a marketing trend to some, but to us at Royal Pet Club, organics mean a more comfortable life for our pets."
Oatmeal is a known skin soother with natural anti-inflammatory properties that nourishes, moisturizes, and gently exfoliates to provide a healthy coat that sheds less.
Borghese, a committed animal activist who travels the world promoting animal welfare programs, lends a welcome voice to a multitude of charitable organizations whose mission is to improve the quality of life for the planet's animal population.
He has also teamed with Animal Aid USA's veterinary partners for low-cost spay and neuter services in low income areas throughout the United States. Borghese's Royal Pet Club donates $2 from every new customer purchase and five percent of profits from Royal Treatment pet care products to support a spay/neuter program throughout the country.
To learn more about Royal Treatment and Royal Pet Club visit RoyalPetClub.com. To learn more about the Prince click here.
About Prince Lorenzo Borghese and Royal Pet Club:
Prince Lorenzo Borghese, founder and president of Royal Pet Club and Royal Treatment Italian Pet Spa, is passionate about the well-being of animals everywhere. His line of pet-friendly organic products were originally created for his beloved Black Lab, Belle. For nine consecutive years, Royal Treatment has been the most successful pet line on the HSN shopping channel.
A vocal advocate of spaying and neutering programs, Borghese donates five percent of Royal Pet Club profits plus $2 for every new customer to Animal Aid USA to support spay and neuter programs across the U.S. Through this program, families unable to afford the cost of having their dog spayed or neutered will be able to have the procedure done for free by a top veterinarian in their community.
Borghese's line of Royal Treatment products were developed to support pet wellness with premium, natural dog shampoos, conditioners, and other organic pet grooming supplies.
Borghese's Royal Pet Club is the online destination for the Royal Treatment line of natural pet spa and wellness products. Made from the finest organic ingredients and essential fragrance oils, Royal Pet Club's pet grooming products have been developed with the help of leading cosmetics manufacturers, world-renowned veterinarians, and other pet experts from around the world. Formulated in a cosmetics laboratory on the outskirts of Tuscany, Italy, all Royal Treatment grooming products are pH balanced for pet's sensitive skin.
Borghese has worked with numerous animal welfare organizations including North Shore Animal League, the ASPCA and Animal Care and Control of NYC. He is co-founder of NYC4ACC, a group of young professionals who organize fundraisers for this city shelter, and an ambassador to the American Humane Association.
Borghese recently joined forces with Karen Talbot to form Animal Aid USA. This not-for-profit is currently planning an epic adoption caravan and animal awareness event to take place in July of this year.
For more information, visit the Royal Pet Club website, or Email John Falkenberg.