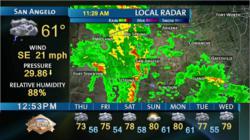 The new WxPoint eliminates the old compromises from local weather channels...companies control the look, the content, the advertising and the branding.
Boston, MA (PRWEB) May 21, 2012
Weather Central, makers of the most viewed weather system in the world, introduced its new WxPoint™ turnkey solution for delivering custom-branded, pinpoint-accurate, always up to date cable weather channels (The Cable Show, Booth 2135). Viewers turned off by the slow pace and broad nature of traditional weather channels will welcome the instant access to local weather information and stunning automated weather graphics provided by the new WxPoint. Now cable companies can have direct, complete control of a weather channel's brand and content, as well as the ability to manage revenue potential with features such as integrated commercial playback and tracking.
Weather Central senior vice president Steve Smedberg said, "The new WxPoint eliminates the old compromises from local weather channels. With the new WxPoint, companies control the look, the content, the advertising and the branding. Subscribers don't have to wait through irrelevant content to get the weather information they need. Sponsors know their ad dollars are directed at an engaged, local audience. And the provider doesn't have to share its revenue with a national provider. The new WxPoint is local weather done right."
Engages Subscribers
The new WxPoint provides subscribers with a constant supply of locally, relevant weather information without having to endure a fixed cycle of superfluous content. Channels are designed to automatically deliver immediate access to local weather information driven by Weather Central's highly local, pinpoint forecast information. The new WxPoint automatically responds to severe weather triggers to provide viewers with critical, life-saving information in emergencies.
Attracts Advertisers
The dynamic approach to local weather enables cable weather channels to emerge as trusted information sources that local communities will use and advertisers will value. Locally-placed weather sensors, web cams and other video sources further spotlight the community and provide advertisers with the local connection they want to optimize sponsorship and commercial opportunities.
Delivers Immediate ROI
With its built-in commercial playback and on-screen sponsorship, the new WxPoint enables operators to benefit from the system from the minute it is launched. The operator has complete control over branding, advertising and content playback. The system is completely white-label, meaning the operator owns and controls every aspect of the screen real-estate. A variety of layouts and designs seamlessly merge local maps, radar, announcements and advertising. Built-in content management tools make it easy to locally or remotely modify announcements and add content as needed.
The new WxPoint system is available immediately. For more information and a complete look at Weather Central's solutions visit http://www.wxc.com.
About Weather Central, LP Weather Central, LP, founded in 1974 by broadcasters and meteorologists based in Madison, Wisconsin, is the leading provider of professional on‐air, online, print, mobile and enterprise weather solutions and forecasting in North America and to major customers worldwide. Utilizing the Company's dynamic weather graphics, precise forecast models and data, and patented technology, more than 1000 partners and hundreds of millions of consumers worldwide benefit from Weather Central's attention to weather presentation, detail and insight.
© 2012 Weather Central, LP, Madison, Wis. All rights reserved. Product specifications and availability are subject to change without notice. Weather Central LP, Fusion, Fusion Studio, :LIVE, GENESIS:LIVE, 3D:LIVE, ESP:LIVE, MagicTRAK, LiveLine GENESIS, A.D.O.N.I.S. MicroCast, A.D.O.N.I.S. FutureCast, StormSentinel DV, WxWarn2, ScreenWRITER, SportsWRITER, SimulCAST, X‐Vision, Storm Vitals, TelePath, RainVision, SnowVision, FunnelPATH, CellPATH, HailZONE, GustZONE, MessoPATH, Always‐On Training, Instant Mapping and WxPoint are either registered trademarks or trademarks of Weather Central LP. All other trademarks contained herein are the property of their respective owners.