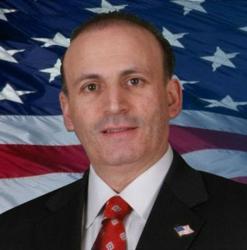 We need Kyrillos to enforce our current laws. We have good law but bad politicians. Silence is Amnesty.
Freehold, NJ (PRWEB) May 23, 2012
"What has Kyrillos done to solve the problem of illegal immigration in his 25+-year political career voters may ask? He has ignored it much like Nero, who fiddled as Rome burned. While communities in his own backyard have suffered financially from his lack of leadership, the man with the fiddle in Monmouth County has offered no solutions to this growing problem. Perhaps this is why the TEA Parties in Monmouth County who know him best do not support him. Now he is asking you to send him to Washington, D.C. Would he bring his fiddle to the nation's capital as well," Qarmout asks?
According to FAIRUSA.org, New Jersey has 12 cities that have huge illegal immigration problems – 11 of them are considered to be sanctuary cities with another one in Kyrillos' own back yard. While the GOP leadership has been quick to criticize the Qarmout Plan, by virtue of their silence regarding this escalating problem, legislators with jurisdiction over such matters (such as Joe Kyrillos) have actually been the ones endorsing amnesty and sanctuary cities. "Perhaps the Republican propaganda machine thinks that if they launch a propaganda attack at Qarmout no one will notice how ineffective Kyrillos has been", says RoseAnn Salanitri, Qarmout's campaign manager. "If Joe Kyrillos is the chosen institutional candidate, then why does his campaign have to resort to gutter politics and push/pull tactics," Qarmout wonders.
"Bader Qarmout has been slandered by the anti-Conservative operatives regarding his Immigration Plan" says Ms. Salanitri. However, Qarmout has boldly stepped forward in an attempt to solve this problem in a way that is punitive and not amnesty. Clearly, Qarmout's plan is not amnesty. It is comprised of several steps that start with securing the border, deporting illegal aliens with a criminal record, finger printing and registering the rest, and imposing a significant fine that can be paid weekly over a 10-year period. The plan also comes with a back of the line period where illegals cannot vote or receive entitlements for 10-years. After 10 years they can apply for a Green Card but still can not vote.
"The truth is that Qarmout has displayed both leadership and guts by designing a plan that seeks to realistically solve the illegal immigration debacle that places NJ's problem as the 6th largest in the nation. Ironically, the critics who have criticized the Qarmout Plan for not stripping illegals of driver's licenses have failed to recognize that issuing such licenses are under the State's jurisdiction and occurred under Kyrillos' watch," Qarmout points out.
RoseAnn Salanitri, Campaign Manager for Qarmout, stated, "Logically you would think this is the last matter the GOP would want to shine light on – especially when you consider Kyrillos' non-record on the issue. Kyrillos may be a nice guy but he simply doesn't have any ideas about how to solve the immigration problem or any of the other problems this country is facing. His 25+ years in office prove that point. This must be why he is refusing to debate Mr. Qarmout. New Jersey is tired of electioneering. We want real solutions to real problems. This is also why so many who are looking for leadership instead of slick career politicians are turning to Qarmout."
Contact:
RoseAnn Salanitri, Qarmout Campaign Manager, 862.266.3952, or emailroseann(at)gmail(dot)com