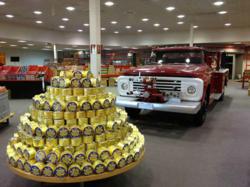 Limits on fireworks in Michigan were lifted in January, but a lot of people don't realize it.
KENTWOOD, MI (PRWEB) May 21, 2012
Jake's Fireworks welcomes Michigan to its affiliate chain as it launches the 40,000 square foot megastore in the Grand Rapids community of Kentwood with a grand opening and ribbon cutting ceremony at 1 p.m. Friday, May 25. Jake's Fireworks has re-purposed and adapted the old Circuit City location at 4600 28th Street in Kentwood for its new high tech, state-of-the-art fireworks showroom, which allows customers to view different fireworks products and displays on in-store screens before making a purchase.
The grand opening comes just in time for the Memorial Day weekend celebrations. Jake's Fireworks will remain open through Labor Day.
Jake's Fireworks' most knowledgeable staff members will be on hand for the grand opening to answer questions and provide advice on purchasing fireworks. A family safety demonstration is scheduled for June 27th with the Kentwood Fire Department.
Headquartered in Pittsburg, Kansas, the fireworks giant will soon be an established presence across the state of Michigan as it opens a second store at 1490 East Apple Avenue in Muskegon, as well as 40 tent locations in Western Michigan, bringing job opportunities and new tax revenues to Michigan communities along with it.
"Limits on fireworks in Michigan were lifted in January, but a lot of people don't realize it," says Peter Turner of Jake's Fireworks.
"We want to raise awareness, and we've created a very high tech space that our customers will enjoy. Nobody up there has ever seen a store like this."
Members of the public are welcome to join the opening celebrations and see Jake's Fireworks colossal showroom, complete with a full size fire engine. For more information, visit jakesfireworks.com/michigan.
About Jakes Fireworks:
For 60 years, Jake's Fireworks has been a fixture in the Pittsburg, Kansas community and regarded as a leading distributor of wholesale and retail fireworks in the U.S., providing services that include standard distribution of World Class fireworks, private label and bulk container orders. With nine distribution centers and more than 250 retail outlets nationwide, Jake's Fireworks is known in the industry as an innovator in consumer fireworks product development.
Jake's Fireworks is an enthusiastic supporter of fundraising opportunities, operating its retail fireworks locations for individuals and organizations during peak retail fireworks seasons.
For more information, visit the Jake's Fireworks website.