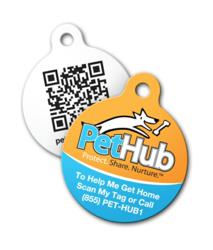 We believe this program can help shelters fundraise between $10k - $25k, which is incredibly powerful.
Seattle, WA (PRWEB) May 21, 2012
As a majority of animal health non-profits, clubs, shelters and rescues across the U.S. continue to struggle with fundraising in a down economy, PetHub (http://www.pethub.com) today unveiled a new program designed to help with their efforts. Making it possible for any non-profit working to improve the lives of pets to create a customized digital ID pet tag with a designated sponsor's logo and brand messaging, PetHub's new program not only helps non-profits generate support, but also offers the fastest and most comprehensive solution to get lost pets home. Printed on every PetHub digital ID tag is a QR code, a unique website address and toll-free hotline that provides anyone who finds a pet with immediate access to a pet's emergency contact information.
Once a non-profit secures a sponsorship, PetHub's digital ID tags will be made available for purchase by the non-profit at cost. PetHub will then create a customized digital ID pet tag and messaging allowing the organization to keep all profits made from the sponsorship package.
"With the American Pet Products Association (APPA) announcing that overall spending in the pet industry was at an all time high in 2011, surpassing $50 billion, PetHub's new program helps non-profits earn a slice of money being spent on pet tags, as well as earn sponsorship fees," said Tom Arnold, founder and CEO of PetHub. "We believe this program can help shelters fundraise between $10k - $25k, which is incredibly powerful."
PetHub provides pet owners with the fastest and safest way to get lost pets home. Going beyond standard ID tags, the PetHub ID tag provides immediate, one-scan access to critical information such as emergency contacts, necessary medication, allergies, immunizations, vet and insurance providers, dietary needs, and much more. Unlike microchips, anyone with a Smartphone (iPhone, Android, or Blackberry) can easily scan the PetHub ID tag, type in the Web address, or call the toll-free hotline on the front of the tag to access a pet's critical information to immediately take proper action. The PetHub ID tags are waterproof and engraved to ensure lasting readability. Each tag includes free data storage, a 24/7 national toll-free hotline as well as access to educational articles, relevant event listings, and local destinations added by the PetHub community and experts. For an added layer of protection, pet owners can also purchase one of PetHub's optional premium subscriptions that include shelter alerts, email notifications, GPS mapping, and even $3,000 of emergency medical insurance.
More Information In-Person or Online
If you'd like to see the PetHub digital ID tags and find out more about the PetHub Fundraising Program in-person, PetHub will be in booth 243 at Animal Care Pet Expo in Las Vegas, Nevada from May 21-24, 2012. Or, for those not attending the show but wanting more information, please send email to info(at)pethub(dot)com.
About PetHub
PetHub, Inc. (http://www.pethub.com) is focused on getting lost pets home faster and safer than ever before by utilizing current and new technologies, including QR code pet ID tags, GPS email notifications, Web profiles, and 24/7 toll free hotline. PetHub's products and services were recently recognized in the December 2011 issues of both Dog Fancy Magazine and Pet AGE Magazine, where the company was honored with an "Editors' Choice Award" as well as a "Silver Seal Retailer Select" award. The company has multiple software patents pending. Facebook users can become a PetHub fan at http://Facebook.com/PetHub or follow updates on Twitter (@pethub.com). See also our YouTube videos at http://www.youtube.com/pethubtv
PetHub and their respective logos are trademarks, registered trademarks, or service marks of PetHub. Other products and company names mentioned are the trademarks of their respective owners.