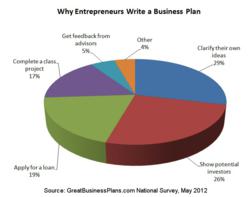 The idea of entrepreneurs being risk takers should be reconsidered in light of the level of critical thinking applied by most future business owners prior to starting their own business. Most are actually cautious and careful planners.
San Diego, CA (PRWEB) May 22, 2012
In a nationwide survey of individuals planning to start a business, 28.8% of all respondents indicated a desire to clarify their own ideas as being their primary motivation for writing a business plan. This response was selected more than any other reason for writing a business plan. Given the survey results, the notion of entrepreneurs as being "risk takers" should be reconsidered. In fact, most entrepreneurs go to great lengths to assess risks and take a critical look at their own ideas before making a decision about whether or not to actually start a business.
Conventional wisdom suggests that the number one reason to write a business plan is to apply for a loan. The survey results showed that is actually the third most sited reason. Just 19.6% of respondents indicated that their intention to apply for a loan was their primary motivation for writing a business plan.
The survey was conducted among individuals using Google , Bing and Yahoo search engines to look for assistance with how to write a business plan. The number one search term was business plan template, suggesting that participants were seeking structured, efficient means of putting their own ideas through the paces of a traditional business planning process. The survey prompt and full results are provided below.
"The reason I am writing a business plan is to: "
Clarify my own ideas for myself: 28.5%
Show potential investors: 25.8%
Apply for a loan: 19.6%
Complete a Class Project: 16.4%
Get feedback from advisers: 5.1%
Other: 4.4%
Participants in the survey expressed a strong desire to reduce the risk of business failure. In a thriving economy, the downside risk of starting a business is reduced. If it doesn't work, re-entering the workforce as an employee is the fallback position. In today's economy, many individuals are considering self-employment or business ownership because the traditional labor market has either significantly reduced their income, or shut them out altogether. The need to minimize risk, even among those traditionally thought to be risk takers, is top of mind.
There is a growing consensus among first-time entrepreneurs that traditional funding, through small business loans or even SBA loans, is not available to them. The collateral requirements and personal guarantees all but shut out those without considerable financial resources already at their disposal. The family and friends round of financing, or purely bootstrapping a start-up are becoming the only means of funding a new business for many first-time entrepreneurs. For that reason, today's entrepreneurs have a strong desire to clarify their own ideas before getting started and they seek to accomplish this by creating their own small business plan.