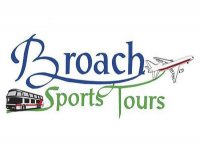 Charlotte, N.C. (PRWEB) May 28, 2012
Broach Sports Tours has unveiled a new online ticket service in conjunction with The Ticket Network, president Tom Broach announced.
Fans can now go to http://www.ticketshipper.com to purchase single game tickets and single-event tickets ranging from sporting events to concerts, Broadway plays and Las Vegas shows.
Broach said that http://www.ticketshipper.com is the safest and most economical way to purchase single-game tickets, and offers distinct advantages over other online ticket agencies.
"It's the same type of service that other websites like StubHub and other services offer,, but if you go to StubHub they add 15 percent to every order and that doesn't occur on ticketshipper.com," Broach said. "Plus, there is the peace of mind factor. The fan certainly needs to be careful about where they're acquiring tickets on the secondary market, so if you're looking for a name that's been trusted for many years, then ticketshipper.com is backed by the integrity and experience of Broach Sports Tours."
Broach Sports Tours has been a leader in the Sports and Group Travel industry since 1992, specializing in baseball tours, golf travel packages and tennis travel packages. It boasts more than 50 tours in 2012, including 27 Major League Baseball tours.
"We have many fabulous tours, but we also recognize that sometimes people just need tickets for one game or one specific event, and ticketshipper.com is geared specifically to them," Broach said. "If someone wants to buy tickets for a group or take a group to an event, they need to call our office or email us. But if you're just looking for a couple of tickets to a game and you want good seats or it's a sold-out event, there are tickets to virtually every event going on around the country. It doesn't matter whether it's sports or concerts or theater, and it doesn't matter what city you live in.
"It's a great source for acquiring hard-to-get or special seats."
The Ticket Network is a consortium of ticket brokers and tour guides from around the country that has a multitude of tickets for any given event. It is a resale marketplace, not a box office or venue.
"It's a few thousand brokers from around the country," Broach said. "We list all the tickets we have for resale, so all the tickets from all the brokers show up on our website, so there are tickets to virtually any event going on around the country.
"Of course, we believe our tours are second to none, and tickets are always taken care of on our tours along with all the other details. But ticketshipper.com is another service that we can provide, and we urge everyone to check it out."
For more information, contact Melanie Hicks at 800-849-6345 or visit http://www.ticketshipper.com.