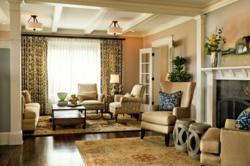 "As kids grow the interior space needs of a family evolve," said Garrison Hullinger, owner & principal of Portland's Garrison Hullinger Interior Design. "It's our job to design interiors that not only respond to this dynamism, but celebrate it."
Portland, Oregon (PRWEB) May 21, 2012
Portland Interior Designer Garrison Hullinger's recent redecoration of a 1920s Foursquare home demonstrates the value of versatility in designing interiors for families. The home's new interior spaces are designed to respond and evolve as the family's kids grow and the household's needs change. This focus on flexibility is central to the interior designer's approach to creating home environments for growing families.
"As kids grow the interior space needs of a family evolve," said Garrison Hullinger, owner and principal of Portland, Oregon's Garrison Hullinger Interior Design. "It's our job to design interiors that not only respond to this dynamism, but celebrate it."
Since the advent of Modernism, architects and interior designers have embraced the challenge of creating beautiful spaces that also serve occupants. But interior design that successfully melds form and function for families has remained elusive.
Today that is changing. Everything from Teflon-coated fabrics to the current design trend toward flexible use of patterns has opened the door to interior design that supports families and their home life.
"Versatility is the key when you design interiors for families," said Hullinger. "If you really embrace this and take the time to understand families' evolving needs, exciting design possibilities emerge."
Hullinger's recent Portland Foursquare redesign provides a roadmap of family-friendly interior design principles:
1. "Bullet proof" fabrics make interiors sustainable. Throughout the home Hullinger and his team incorporated durable, treated fabrics to withstand the rigors of family life. "Furniture should last a family 10-13 years, without reupholstering. You should be sick of it before it wears out," said Hullinger.
2. Placeholder space reserved for future furniture doubles as play space. Today the kids in the Foursquare need open play space. Years from now they may need a sofa or coffee table. By providing carefully planned open spaces, Hullinger's room designs accommodate both.
3. Flexible seating maximizes space and money invested in furniture. Rather than stuffing the house with chairs and sofas, Hullinger planned multiple uses for fewer, higher quality pieces of furniture and then left space for this seating to be moved regularly as household needs dictate. For example, the wing-backed chairs at the fireplace also serve as extra seating at the dining room table.
4. Lighting should serve everyone. Hullinger's design mixes ambient lighting with more focused treatments because the kids playing on the floor of the living room need different light from the parent curled up with a book in the corner.
5. Mix of patterns makes change easy. Hullinger's interior décor for the project pulls mixes of large-scale patterns into the various room designs of the home. Because the décor is built around these patterns rather than specific colors or materials, this approach allows versatility as kids get older and space needs change. Pieces can be added or replaced with fresh patterns that complement the composition in a new way. This adds vibrancy and a longer life to the design. Done well, the approach can provide historic homage while embracing the evolving needs of a household.
An annotated slideshow can be viewed in this video of the family-friendly Portland interior design project.
"We had an ambitious agenda for this Portland home, to improve its flow, restore integrity to its entry, and lighten up the place," Hullinger concluded. "But our most important contribution was to create interior spaces that both fit the family today and will evolve gracefully with it into the future."
More interior design ideas and case studies can be found on Garrison Hullinger Interior Design's interior design blog and on the firm's website at http://garrisonhullinger.com/
About Garrison Hullinger Interior Design
GHID is a Portland, Oregon based design firm dedicated to creating stunning interiors that respect taste, collections, artwork and budget: from custom home furnishings and decorating, to kitchen and bathroom renovation, to new home design.
###