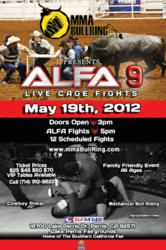 The ALFA League fighters came to fight tonight and they delivered again with some great MMA action."-Brett Roberts, CEO BAMMA USA
Santa Ana, CA (PRWEB) May 21, 2012
The event was entertaining on both sides of the cage, as the BAMMA USA MMA cage shared the floor with a bull ring. Four cowboys, all United States Marines, three of which have multiple wartime tours of duty (the fourth leaves in less than a month for his wartime tour of duty) dodged bulls instead of punches. They presented the bull ring games of "Money Grab", "Bull Soccer", and "Cowboy Poker" during the two intermissions of the fight card. The fights inside the MMA cage displayed the bright future of the sport, with submission and TKO finishes in addition to some hotly contested decisions. When asked about the fights, BAMMA USA CEO Brett Roberts stated that "The ALFA League fighters came to fight tonight and they delivered again with some great MMA action."
Edgar Gonzalez Wins Main Event by Split Decision
The action filled featherweight bout between Edgar Gonzalez (2-1) and Abraham Nava (3-1) had the audience on their feet early with both fighters trading continuous punches throughout the first round. After some punches were exchanged to start the second round, Total MMA Studio's Edgar Gonzalez tried to take the fight to the ground but Abraham Nava, fighting out of Knuckleheadz Gym, put a stop to that attempt by delivering some huge hammer fists to Gonzalez's face. Seeing that Gonzalez wanted to keep the fight on the mat, Nava promptly achieved full mount and the two fighters threw punches from their respective positions, with Nava getting the better of the exchange. Gonzalez was able to get an arm bar submission attempt on Nava's right arm but there wasn't sufficient time remaining in the round for him to complete the finish. Both fighters threw a couple of punches to start the third round before Nava caught a Gonzalez leg kick attempt that put Gonzalez's shoulders on the mat. Gonzalez quickly secured his legs around the waist of the standing Nava. From this position Nava threw punches with his left hand as Gonzalez worked on getting Nava's right arm into an arm bar submission hold. Nava tried a couple of times to break the hold by lifting Gonzalez off the mat and returning his head to the floor with great acceleration but Gonzalez would not let go. Nava eventually got out of the hold and achieved side mount as time expired in the fight.
Fight Card Results
145 lbs-Edgar Gonzalez def Abraham Nava via Split Decision (29.5-29, 28.5-29.5, 30-28.5)
155 lbs-Kyle Hurley def Kyle Mason via RNC (Rear Naked choke) in RD1
175 lbs-Christian Aguilera def Fernando Kopp via TKO in RD1
220 lbs-Jonathan Wilson def Michael Mosley via TKO in RD1
185 lbs-Justin Blankenship vs Pedro Leco - No Contest (Leco injury as fighters announced)
135 lbs-David Duran def Terrance Ortiz via Arm Bar in RD1
145 lbs-Jhovani Rivera def David Bernal via UD (30-26.5, 30-26.5, 30-25)
125 lbs-Jourdan Chavez def Jesus Curioso via RNC (Rear Naked Choke) in RD3
About BAMMA USA
BAMMA USA is a Mixed Martial Arts (MMA) promotional company specializing in creating live entertainment featuring both professional and amateur combatants. Currently stationed out of Southern California, BAMMA USA promotes the area's top local talent from mixed martial arts gyms such as CSW, Knuckleheadz Boxing & MMA, Elite MMA, Kings MMA, PKG, Joker's MMA/Lightning MMA, The Bodyshop, Reign Training Center, Total MMA Studios, Ace Jiu-Jitsu, Cobra Kai, Gracie Morumbi, Cesar Gracie Jiu-Jitsu Academy, The Arena, Subfighter MMA, as well as many others. BAMMA USA is Southern California's leading mixed martial arts (MMA) organization providing the area with events monthly and opportunities to professional and amateur athletes.
Past and current fighters who have worked with BAMMA USA founder Brett Roberts include: Mike 'Joker' Guymon, Vladimir 'The Janitor' Matyushenko, Joseph 'Leonidas' Henle, Georgi Karakhanyan, Gabe 'Godzilla' Ruediger, Jason Lambert, Chad 'The Savage' George, Albert Rios, 'The Real Deal' Chris Beal, Jack 'The Outlaw' May, Jared 'The Jackhammer' Papazian, and more…
While the promotion prides themselves on their motto: "Keep Moving Forward" the ultimate passion for BAMMA USA is to create an environment in which fighters are truly valued.
Company Information Sources
http://www.BammaUSA.com
Twitter: @BammaUSA
Facebook: BammaUSA
Personal Contact Information
Brett Roberts, CEO
info(at)BammaUSA(dot)com
714.912.8822
Jose Grau, Public Relations Events Coordinator
josegrau(at)BammaUSA(dot)com
About ALFA
Since 2011, BAMMA USA has been promoting the Amateur League Fighting Alliance (ALFA) and working under the supervision of the California Amateur Mixed Martial Arts Organization (CAMO). Through the Amateur League Fighting Alliance (ALFA) amateur fighters can expect to fight in a professional atmosphere, gain valuable experience, and potentially become another one of Southern California's next top fighters who makes it to the big leagues.
About MMA Bullring
MMA Bullring is poised to become the largest MMA Fight/Rodeo promotion company in California. Not new to MMA, MMA Bullring has partnered with MMA thoroughbreds ProFightNetwork, MMABay News, and BAMMA USA. For the first time ever, spectators will be able to see MMA fights combined with rodeo activities all taking place at the same event including Cowboy Poker, Cowboy Teeter Totter, and of course Bull Riding. MMA Bullring empowers the Mixed Martial Arts sports community by connecting fans, athletes and brands through best in class media, events and e-commerce. Their goal is to respectfully enhance and grow the MMA action sports market in authentic ways to meet the needs of current and future generations of enthusiasts. MMA Bullring set out to bring entertainment to a new level. They have several committed partners with a vast amount experience with both MMA and rodeo. MMA Bullring felt by combining sports that require so much mental, skill, and physical toughness, it is only right to see if athletes can transition their toughness to another set. Therefore the motto for MMA Bullring is "Where Toughness is Tested".
Company Information Sources
wwwMMABullring.com
Twitter: @MMABullring
Personal Contact Information
Christopher Greenman, CEO
949.533.8353
Roxana Greenman, Ph. D., COO
Roxana(at)MMABullring(dot)com
949.933.5484
Allen Shelby
Allen(at)MMABullring(dot)com
909.270.8892