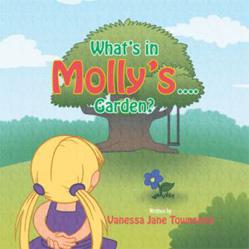 New Zealand (PRWEB) May 22, 2012
The garden is a beautiful and comfortable place full of life and colour, where children can learn many things. From plants to insects to many other objects, the garden can be a perfect avenue to discover wisdom and knowledge. It holds true in author Vanessa Jane Townsend's "What's in Molly's…Garden?," a charming tale that highlights a child's close interaction with various garden creatures and other objects.
In this bright and colourful children's book, young readers will follow Molly as she embarks on an adventure through her garden. They will watch how she interacts with wonderful creatures and other common garden objects that she discovers along the way. The book has easy-to-read storylines where the author reinforces it with alliteration to add excitement and rhythm at every page. Molly's discoveries will excite the readers and her interaction with different creatures will inspire them to go outside and explore their own gardens.
A beautiful tale packed with lovable characters and vibrant illustrations, this book is a good tool to teach children about the diverse garden creatures and other objects—and help them to learn how to appreciate and value all life forms.
This book will be featured at the 2012 American Library Association Annual Book Exhibit in Anaheim, Calif. on June 22-25, 2012.
For more information on this book, log on to http://www.Xlibris.co.nz.
About the Author
Vanessa Townsend, a first time author from New Zealand, has always dreamed of writing a children's book. She was inspired to create What's in Molly's Garden? after the birth of her own daughter Molly, who has a love for all things beautiful in the garden. She enjoys spending quality time with her daughter and husband and looks forward to creating future books in this series.
What's in Molly's…Garden? * by Vanessa Jane Townsend
Publication Date: January 27, 2012
Picture Book; NZ$34.99; 24 pages; 978-1-4691-5781-8
To request a complimentary paperback review copy, contact the publisher at 0800-891-366. To purchase copies of the book for resale, please fax Xlibris at (09) 353-1455 or call 0800-891-366.
For more information, contact Xlibris at 0800-891-366 or on the web at http://www.Xlibris.co.nz.