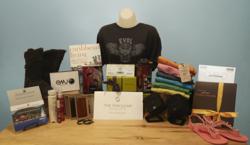 Las Vegas, NV (PRWEB) May 22, 2012
Brand Placement LA (BPLA), a leading celebrity gift bag and entertainment marketing company, announced the selected brands that participated in the luxury gift bags provided backstage to nominees, performers, presenters, and VIP guests of the 2012 Billboard Music Awards. The award show took place on Sunday, May 20th at The MGM Grand Garden Arena in Las Vegas and aired live on ABC.
Top recording artists in all genres received the gift bags in recognition for their outstanding contributions to the industry and their participation in the 2012 Billboards Music Award show. Katy Perry, Miley Cyrus, Carrie Underwood, Usher, Justin Bieber, LMFAO, Cee Lo Green, Taylor Swift, Nelly Furtado, Zooey Deschanel, John Legend, Julianne Hough, Stevie Wonder, and Kelly Clarkson, were among the attendees presented with the gift bags backstage.
The gift bag featured a collection of innovative and luxury items, all in a large black patent LeSportsac Weekender bag. Celebrities had the option to travel to up to four exotic destinations and experience unparalleled luxury around the world; from a camel trek over sun soaked dunes in the Middle East or sailing off the coast of the British Virgin Islands, to hiking snowcapped mountains in South America and getting pampered all week long at an all-inclusive resort in Mexico.
The Qasr Al Sarab Desert Resort by Anantara in Abu Dhabi, gifted a two-night stay in a luxury one-bedroom Pool Villa, including butler service and a sunset camel ride for two. Celebrities can also experience a Caribbean water sports vacation like no other, courtesy of The Bitter End Yacht Club on the tropical island of Virgin Gorda in the British Virgin Islands. The resort gifted a four day-three night vacation for two in a beachfront cottage, including use of a 100-boat water sports fleet, multiple excursions, and sailing lessons. The Singular Patagonia provided a three-night stay for two at their award-winning resort that sits on nearly 100 acres of breathtaking land, deep in the heart of Southern Chile. Lastly, compliments of Caribbean Living Magazine, Hacienda Tres Rios offered a seven-night stay for two at their five-star resort on the sandy white beaches of Riviera Maya, Mexico.
Material6 treated the talent to their hand-finished, and hand-assembled wood inlay backs for iPhone 4 and 4S models. Gift bag recipients also had the option to provide artwork to be custom-engraved on their new backing. Sony Electronics offered their sweat-proof, water-resistant Balanced Armature in-ear headphones. Palo Alto Audio Design gifted their award-winning Cubik speakers with stunning hi-fi sound clarity and unforgettable design.
Kao provided an assortment of premium beauty products including:
Bioré Combination Skin Balancing Cleanser, Jergens Natural Glow & Protect Daily Moisturizer, and John Frieda Clear Shine Luminous Glaze, Full Repair Style Revival Heat Spray, Full Repair Flyaway Tamer and Frizz-Ease Sheer Solution Lightweight Frizz Control. For the ladies, Brilliance New York provided their technologically advanced hair styling tools, and for the gentlemen, Mangroomer offered their Stainless Steel Detail Groomer for total man grooming maintenance.
Nehita is an exquisite collection using only the finest of handpicked exotic stones, gold, and diamonds and presented a $250 gift certificate for an item of choice. EMU Australia has proudly been producing the world's finest Australian sheepskin and Merino wool products for over 15 years, and gifted their high-quality sheepskin and suede boots. M2F Brand Denims is the first and only jean company to produce a full denim collection in an unlimited pallet of colors including brights, neutrals, earth tones, pastels, and jewel tones. Attendees selected either their popular mini shorts or skinny jeans in a color of their choice.
So the celebrities can indulge in all things stylish, and swoon over their favorite designer brands, evesapple.com provided a $100 gift certificate for a completely unique, indulgent, online shopping experience. Holster gifted two pairs of their Supermodel Jelly sandals, embellished with striking jewels and studs. Evol Clothing provided 100% cotton printed tees and tank tops. The gift bag also featured gorjana's chic Graham Leather Double Wrap Bracelets with subtle silver and gold studding throughout.
To create order in an otherwise hectic and on-the-go lifestyle, O.C.D. Experience, a professional organization company, will send an O.C.D. consultant to work one-on-one with the celebrities to create clarity and remove clutter from any space in their home or office. Lugless will provide their door-to-door luggage pick-up and drop-off services so the VIPs can enjoy a luggage-free travel experience on one of their future trips.