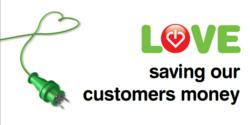 Compare business electricity prices at www.loveenergysavings.com
Bolton, UK (PRWEB UK) 22 May 2012
The campaign, which targets businesses, helps businesses reap the benefits of savings on their energy bills. Each business which responds to the campaign has been directly targeted and is due to make a saving. These customers will be able to call Love Energy Savings and compare their energy prices and get the best tariffs in order to save them the most money. On average Love Energy Savings save each small business £1050.
Gemma Bailey Marketing Manager at Love Energy Savings said "This campaign was cleverly designed to create awareness to businesses of the savings they could make and warn them of the expense that can be cause in high rolling contracts"
70% of businesses get caught in a higher priced contract, making it essential customers check their renewal dates and find out the best deals.
Love Energy Savings have worked alongside Gecko a multi-disciplinary printing and media company to create the campaign. The direct mail has started to land in businesses all over the country. 2500 businesses have been targeted.
The direct mail will be followed up with phone calls to each business in order to give each business owner the best opportunity to make a saving. Love energy Savings urge all businesses to check their contract renewal date and contact them to compare business electricity prices. For more information and to get cheap electricity or cheap gas visit http://www.loveenergysavings.com or call 08000932791.
Follow Love Energy Savings on twitter to get great energy savings tips https://twitter.com/#!/LoveEnergySavin