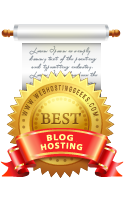 There are certainly many competitors in this niche, but Web Hosting Hub shined in each point of our checklist
Newport Beach, California (PRWEB) May 29, 2012
The category for "Best Blog Hosting" is one that recognizes a provider with a phenomenal blog hosting experience that caters to the modern content producer. Selection criteria included server stability, general feature set, compatibility with popular blogging software like WordPress, and overall value.
"There are certainly many competitors in this niche, but Web Hosting Hub shined in each point of our checklist," explained Artem Minaeff of Web Hosting Geeks. The provider was selected over its competitors for its blogging-ready tech support, its $3.95 per month hosting plan, and its unlimited storage space, bandwidth, email clients, and websites, and its hardware optimization for blog hosting.
Offering United States based technical support that's available 24/7 over the Internet and by telephone, Web Hosting Hub offers one of the best support networks currently available of any shared hosting provider.
Web Hosting Hub's monthly web hosting plans begin at $3.95, one of the most competitive pricing schemes available of any shared hosting network. Web Hosting Hub also provides limitless features like unlimited bandwidth, unlimited websites, unlimited email accounts, and unlimited disc space, each of which make it an ideal value for both the veteran and rookie blog writer.
The Virginia-based company, founded in 2001, has a special drive for providing quality tech support, as well as a comprehensive and cheap web hosting atmosphere. Web Hosting Hub also has a strong emphasis on customer satisfaction, aiming to please their user base through friendly support and web-ready features.
This was also mentioned in a post on the Geeks' Blog.
About Web Hosting Geeks: Since 2004, Web Hosting Geeks has been independently monitoring, reviewing, and rating web hosts. The editors leverage their industry expertise, as well as the web hosting reviews from thousands of their readers, to evaluate web hosts. In addition to their highly respected annual hosting awards, they also publish helpful blog posts and infographics on web hosting, social networking, and the state of the internet today.
Contact:
WebHostingGeeks.com
1024 Bayside Drive, Suite #302
Newport Beach, CA 92660
+1(866)TOP-HOST
http://webhostinggeeks.com/