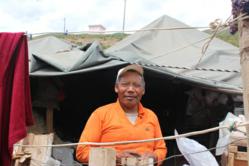 Boulder, Colorado (PRWEB) May 25, 2012
Tibetan Village Project, a development NGO, recently helped rebuild the business of a family affected by the devastating Yushu earthquake.
In 2006 Tashi moved to the Yushu area with his wife, two sons, a daughter and his nephew. They were originally from Lhoka, a small village near Lhasa, but they decided to open a restaurant and tailor shop in Jiegu, in the heart of Yushu County.
Tashi is a master tailor, and taught his sons how to sew. His wife is a chef and has taught her daughter and other family members how to cook. After four years of hard work, both the restaurant and tailor shop were financially successful and were well-regarded and well-known in Jiegu.
On April 14, 2010 a 6.9 magnitude earthquake struck Yushu, an ethnically Tibetan area of China's western Qinghai Province. According to Xinhua news, 2,698 were killed and more than 12,000 injured. Tashi's eldest son, daughter in-law (who was pregnant), and a grandchild were killed in the earthquake. The sewing shop and restaurant collapsed, and merchandise and fabric worth around 50,000 RMB were looted.
Because Tashi's family was not originally from Yushu, they did not receive any support from the government. Non-profit organization Tibetan Village Project (TVP) has established multiple projects to help Tibetans in Yushu recover and rebuild after the earthquake, and they recently agreed to help Tashi and his family restart their business.
TVP offered Tashi a 45 square meter winter tent as a gift (1000 USD) to be used as a storefront, and also provided 3,750 USD seed money to begin business operations again. The money was used to buy tables and chairs for the restaurant and fabric and equipment for the tailor shop.
Tibetan Village Project is a non-profit, non-political organization dedicated to promoting sustainable development while preserving the rich cultural heritage of Tibet. TVP's projects are small-scale initiatives that work directly with Tibetan villagers and with local government through project-coordinators chosen from each village who know the local situation, understand the culture, and speak the language.