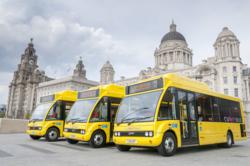 ....quieter, cleaner and more fuel efficient... reducing emissions of local air pollutants and CO2 by at least 30%
Liverpool, UK (PRWEB UK) 21 May 2012
These new hybrid buses are quieter, cleaner and more fuel efficient. They can reduce emissions of local air pollutants and CO2 by at least 30% compared to conventional vehicles.
£1.2million was made available through the Department for Transport's (DfT) £30million Green Bus Fund, which has supported a fleet of 13 new eco-friendly buses for the region.
Operators Cumfybus Ltd worked with Merseytravel on the bid and will operate the low carbon emission buses across Liverpool city centre's 'City Link' routes – the C1, C2, C3, C4 and C5 services.
Councillor Mark Dowd, chair of Merseytravel, said: "This is one of the ways in which we are supporting more sustainable transport in the region. These new buses will help to reduce CO2 emissions, support improving air quality in the city centre, and be more fuel efficient."
Jim Barclay, interim chief executive of Merseytravel, said "We are committed to supporting greener transport and to providing cleaner air and a healthier environment for Merseyside and complements the sustainable biofuel and electric services we are also involved in."
Penny Lyon, director of Cumfybus, added "We were pleased to have been selected as one of only 20 operators in the country to have benefited from this grant and we look forward to running these buses around the city centre."
The fund enabled bus operators and councils in every region across England to fund the up-front additional costs of buying low carbon buses. As more low carbon buses are produced and sold, costs are expected to fall and hopefully more will be deployed on the roads.
This aim is to encourage the introduction of new bus technology and stimulate the market for low carbon buses, an industry in which the UK is a world leader
Merseytravel also recently supported Arriva's successful bid to the 3rd round of the Green Bus Fund with 33 hybrid double deckers now planned for their cross-river services.