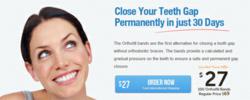 Ottawa, ON (PRWEB) May 22, 2012
Orthofill is a dental care brand in Canada that has helped thousands of clients by providing orthodontic bands as alternative for closing a tooth gap without the need for braces. The company is delighted to announce its plans for a new interface that will provide better experience to clients who visit the website. Orthofill has closed over 160,000 teeth gaps worldwide. In line with this accomplishment, Orthofill wishes to give back through a more user-friendly interface where clients find all they need and want with the service.
It is known that traditional orthodontic braces are the only solution for closing teeth gaps, but with Orthofill bands that belief is now done and over. This dental product has been proven to repair teeth gap permanently all within 30 days. The teeth bands work to put a calculated and gradual pressure on the teeth to ensure a safe and secure gap closure.
According to Orthofill's skilled team of dental professional "The number of clients who trust the product is the guarantee that it works. Orthofill is a dental solution that our experts have come up in the midst of the dilemma brought by teeth gaps and unsightly recourse of braces. Providing an alternative dental treatment is our pride, considering it's a breakthrough in dentistry. Now, we will focus on providing clients the easy access to our products by first improving their online experience to the Orthofill website."
Orthofill orthodontic bands are safe and secure to ensure a snap on smile. It also offers 110% Money Back Guarantee as stated in the return policy. Delivery is 10-14 business days then you can try it risk-free. If clients are not agreeable with the results, they can send it back and get a refund effective only within 8 weeks after the order.
Orthofill orthodontic bands are a less intrusive alternative for closing the space between the teeth. It has been developed to provide quick and permanent solution to teeth gaps that clients around the world are all too happy to discover.
For more information on how Orthofill can treat diastema in less than two months, visit http://www.orthofill.com.
About
Orthofill is a company owned by Clicking Labs, Inc. that started in May 2010.With dedication and perseverance; they were able to bring together a team of multi-talented individuals to provide the world with creative and interesting marketing strategies to drive success to its clients. It has stations in Ontario, Canada and Cebu, Philippines.
###