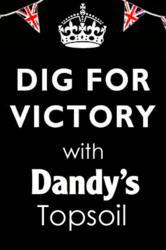 Nothing tastes better than home-grown, in-season vegetables and it is our mission to get as many people in Britain growing their own as possible"
Adam Dandy, Owner, Dandy's Topsoil
(PRWEB UK) 21 May 2012
Topsoil producers, Dandy's Topsoil, are re-launching an old Second World War campaign – Dig For Victory – in an effort to get homeowners, amateur growers, allotment keepers and even those with just enough space for a window box, out in their gardens planting and growing their own fruits and vegetables.
Dandy's started life as a fruit and veg stall on old Chester Market way back in 1826; since then the business has gone through some significant changes; notable, in 2004 the company were the first in their market to begin selling topsoil and landscaping supplies online for home delivery. Since then the business has gone from strength to strength and has grown to employ over thirty people whilst remaining a family run and owned company which holds on to the values and ethics of such.
The 'Dig For Victory' campaign will showcase Dandy's best-selling, bespoke topsoils; namely their Vegegrow®, Bordermix® and new Multi-Purpose Topsoil with offers, discount vouchers and free gifts being launched on the run up to the Queens Diamond Jubilee in June this year.
The original Dig For Victory campaign was launched during the Second World War in an attempt to encourage Britons to grow their own vegetables; saving them money and rations and freeing up valuable space on merchant shipping convoys for metals, weapons and machinery.
The campaign was so successful that by 1943 over a million tonnes of vegetables were being grown by homeowners on British soil.
"Nothing tastes better than home-grown, in-season vegetables and it is our mission to get as many people in Britain growing their own as possible. Not only will people growing their own save money but they will also reap the benefits of organically grown produce, the health benefits of which are substantial. The sense of achievement when taking the first bite of your own home-grown veg cannot be topped by even the most exotic imported fruits and vegetables!" said Adam Dandy, owner of Dandy's and son of James Dandy whose own home-grown fruit and veg feature on the menu at 'Jim Dandy's Welsh Diner' located at the North Wales Truck Stop, Deeside.
The company's latest product; high quality topsoil developed to be suitable for almost any gardening job – Multi-Purpose Topsoil – has already proven popular with return buyers and new customers alike. Though Dandy's supply bespoke blends of soil and improvers for use creating new lawns, for building up beds and borders and topsoil specifically for growing vegetables, this new mix has been carefully constructed of exactly the right ratio of soils, sands, improvers and composts to make it friable, free-draining, nutrient rich topsoil which is suitable for any landscaping or growing job.
Company Information:
Dandy's is a multi-award winning, family run business and has been so since 1826.
Often at the forefront of their market, the business has also seen great success in the production of other products such as their Ultragrip Rock Salt which saw Dandy's as the only company in the UK able to supply businesses, home-owners, Councils and the emergency services with a de-icing product after salt mines closed in the winter of 2009/2010.
Dandy's are pioneers in the topsoil and compost production industry and they were the first in their market to begin selling topsoil and landscaping supplies online; since then they have remained market leaders in their industry and are continually producing new products and services to sustain this position.