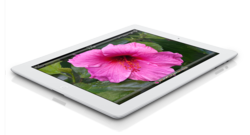 (PRWEB) May 21, 2012
Best Skins Ever, the premier online retailer & manufacturer of clear protective skins & screen protectors for electronic devices, saw an immediate boom in sales for the New iPad 3 Screen Protectors and clear protective skins.
Immediately following Apple CEO Tim Cook's announcement of the new iPad, Best Skins Ever made available their online collection of protective skins for the new device. The release of Apple's latest tablet saw a surge in demand for accessories, and Best Skins Ever's latest iPad Skin saw one of the greatest initial surges of any product available on their site.
Where last year's iPad 2 initial sales figures trumped the rest of 2011, iPad 3 skin sales in the first ten days surpassed last year's 10-day figures with a 75% increase in product revenue.
These numbers come as no surprise as Apple sales figures surged in their first weekend after hitting the shelves. Estimates had the tech giant selling over 3 million tablets in their first three days in stores, while Best Skins Ever sold 24% of their iPad 3 skins on opening weekend.
Following last year's March release of the iPad 2 – Best Skins Ever saw their best month of the year with revenue in the month of March at 68% higher than their month by month average, along with web traffic which was up 36%.
So far in 2012, Best Skins Ever have seen online sales climb month by month – with March sales seeing a 56% increase in revenue from February with web traffic up 19%.
About Best Skins Ever:
Best Skins Ever, based out of Westminster, Colorado, provides scratch-proof protective skins, covers & screen protectors for smart phones, laptops, tablet computers, media devices and more. A company that both manufactures and sells transparent products also believes in doing business transparently.
Their four aspects of being a transparent company rely on their honesty – offering full disclosure on their products, reputation - among their loyal users, price - offering a fair price in their market and ease of use with product tutorials and step-by-step application directions.