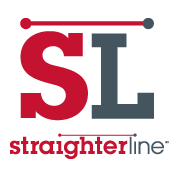 "StraighterLine's coursework fits perfectly with SUNY Empire State College's commitment to flexible and affordable pathways to a college degree," says Burck Smith, CEO of StraighterLine.
BALTIMORE, MD (PRWEB) May 22, 2012
StraighterLine (StraighterLine.com) announced today that SUNY Empire State College (esc.edu), one of the earliest leaders in nontraditional teaching and learning, has joined the rapidly expanding group of regionally accredited partner schools who award college credit to StraighterLine students who transfer their courses and enroll in their school. This news means that students can transfer their StraighterLine college credits to yet another institution of higher education that recognizes the important role distance learning fills for the many individuals trying to balance the responsibilities of their busy lives.
SUNY Empire State College has been helping adults continue their education to advance their careers since 1971. The college has a proud 40-year commitment to valuing learning gained from life and work experience and has a clear process for assessing and awarding credit for college-level learning gained through experience. Whether online, face-to-face, or a combination of both, learners decide how, when and where to study. The college also offers affordable SUNY tuition; degrees that can be tailored to meet individual education, career and personal goals; transfer-friendly policies and extensive support through MyESC.
Together, SUNY Empire State College and StraighterLine offer all students the opportunity to get a quality education online, at their convenience, at a substantially lower cost than most traditional degree programs.
"StraighterLine's coursework fits perfectly with SUNY Empire State College's commitment to flexible and affordable pathways to a college degree," says Burck Smith, CEO of StraighterLine. "Together, we're thrilled to be able to offer affordable pathways for students."
Students can take self-paced, freshman and introductory-level online college courses through StraighterLine and save thousands of dollars on the cost of their college degree. With StraighterLine's affordable subscription pricing plan, students pay only $99 per month plus a registration fee of $39 per course and can move through the material as quickly or slowly as they like.
StraighterLine courses have been evaluated and recommended by the American Council on Education's College Credit Recommendation Service (ACE CREDIT). Compared to online courses from a typical college or university, StraighterLine's courses have been found to offer equal academic rigor but are more affordable and convenient. Ninety percent of successful StraighterLine students were either enrolled or had completed their degree program at the college which accepted StraighterLine's courses.
Currently, the StraighterLine curriculum offers 38 entry-level college courses online including College Algebra, Precalculus, Calculus I, Calculus II, Business Writing, Introduction to Biology, Introduction to Biology with lab, General Chemistry I, General Chemistry I with lab, English Comp I, English Comp II, Accounting I, Accounting II, Managerial Accounting, Macroeconomics, Microeconomics, Business Statistics, Anatomy & Physiology I & II, each with a lab option, Medical Terminology, Introduction to Psychology, Introduction to Business, Introduction to Criminal Justice, Introduction to Nutrition, Introduction to Sociology, Western Civilization I, Personal Finance, United States History I, Student Success, Pharmacology I, Pharmacology II, General Physics I, General Physics I with lab and two developmental courses, with another 9 new courses slated for launch during the first half of this year.
About SUNY Empire State College
SUNY Empire State College was established in 1971 to offer adult learners the opportunity to earn associate, bachelor's and master's degrees from the State University of New York.
In addition to awarding credit for prior college-level learning, the college pairs each student with a faculty mentor who supports that student throughout their college career. Students engage in guided independent study and coursework onsite, online or a combination of both, which provides the flexibility for students to learn at the time, place and pace of their choosing.
The college serves more than 20,000 students worldwide at more than 35 locations in New York State and online. Its 63,000 alumni are active in their communities as entrepreneurs, politicians, business professionals, artists, nonprofit agency employees, teachers, veterans and active military, union members and more.
More information about the college is available here.
About StraighterLine
StraighterLine has been recognized as a revolutionizing force in education by major news organizations and the U.S. Chamber of Commerce for offering students online courses that earn real college credit for just $99 a month. Fast Company named StraighterLine one of the "10 Most Innovative Companies in Education."
In order to facilitate the award of credit, StraighterLine has forged partnerships with leading accredited online colleges and universities. A student ultimately earns a degree from those institutions but realizes tremendous savings and convenience by starting with StraighterLine.
StraighterLine's courses are evaluated and recommended by the American Council on Education's College Credit Recommendation Service (ACE CREDIT). In addition to the institutions with which StraighterLine has a direct relationship, more than 250 other schools are reported to have accepted StraighterLine coursework for transfer credit.
Currently, StraighterLine offers 38 entry-level college courses online in the Sciences, Humanities, English, Math and Business. 5 StraighterLine courses have been approved by The College Board to be listed as AP courses: AP Macroeconomics, AP Microeconomics, AP English Language and Composition, AP Calculus AB and AP Psychology. And dozens of StraighterLine courses cover the same subject areas as CLEP exams, making them acceptable alternatives to or preparations for those tests.
For information, visit StraighterLine.com or call 202-507-7020 or 1-877-str8erline (1-877-787-8375).