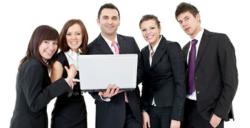 Baltimore, MD (PRWEB) May 21, 2012
Managed Network Services Group (MNS Group), Maryland's leading provider in Technology as a Service, made a strong push in Q1 of 2012 with a shifted focus on their online instance MNSGroup.com.
The company's site doubled in web traffic in the first quarter of 2012 compared to the final quarter of 2011.
The Maryland firm, headquartered in Harford County – northeast of Baltimore, has provided IT consultation and management information services to business small and large across the region since 2008. In the first quarter of 2012, the firm's online presence made historic strides in how the company can connect with companies in need of their services.
The network services group's success in reaching their potential clientele online has allowed the group to fulfill the IT needs of more companies than ever before.
The MNS group site's performance has not only grown in the volume of customers the group can now reach, but it allows the group to be an innovative force in serving their faithful clientele. In the first quarter MNS Group also announced the launch of a new client services portal. The portal system, launched in February, allows customers to track and record ticket histories, serving as a crucial aspect to the overall service experience.
MNS Group prides itself on the range on their diverse range of IT service offerings, as well as unparalleled service guarantees. Their track record has helped build a strong reputation in the IT services market through delivering utmost quality and service to their valued business partners.
Also in Q1, MNS group was able to welcome aboard a new key component to their leadership collective, announcing the hire of Frank Aud as Vice President of National Sales and Marketing
Aud brings 26 years of business development and industry experience to MNS Group. In his role, Aud works to strengthen relationships with key clients and personnel, while identifying new opportunities and revenue streams in the IT services market.
About MNS Group
MNS Group is a leading IT support firm in Maryland that offers innovative solutions to business partners through business network management, process consulting, and workflow development measures. MNS Group provides top-level support through a professional and highly-trained staff with multiple certifications from major industry companies including Microsoft, Cisco and Novell. MNS Group's industry experience includes healthcare, banking, education, accounting, communications, security, government and legal services. MNS Group is a Microsoft Gold Certified Partner and a VM Ware professional partner. For more information, please visit http://www.mnsgroup.com.