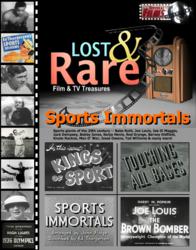 The Lost & Rare Film & TV Treasures is an evolving resource of difficult-to-find and previously lost film and television shows.
Philadelphia, PA (PRWEB) May 23, 2012
Babe Ruth, Joe Louis, Bobby Jones, Sonja Henie and Knute Rockne are among the host of leg­endary athletes featured on Lost & Rare, Vol. 2: Sports Immortals, a collection of films show­casing the greats of the 20th century world of sports figures shown in lost and rare footage. The 75-minute DVD showcases five films, which have been compiled and produced by Festival Films and released in conjunction with Movies Unlimited; available now for $19.99.
"Sports Immortals" (1939): An entry in the popular Ed Thorgesen Sports Review series, this presents behind-the-scenes footage of Babe Ruth, Barney Oldfield, Man O' War, Jack Dempsey and a young Sonja Henie.
"Touching All Bases" (1939): A salute to baseball for its centennial with footage of greats like Babe Ruth and Ty Cobb speaking at the Hall of Fame in Cooperstown, highlights of the 1939 season and instructional tips from Joe DiMaggio, Bob Feller, Ted Williams and others.
"The Brown Bomber" (1937): In this intimate portrait of boxing champ Joe Louis, we wit­ness Joe at training camp, playing pool. Listening to records and working out, as well as other activities.
"Kings of Sport" (1940s): Friends argue about the greatest sports figures of all-time leading the way to clips of Babe Ruth, Joe DiMaggio, Bill Tilden, Knute Rockne, Bobby Jones, Helen Wills, Red Grange and others.
"1936 Olympic Highlights" (1936): Cameras capture the memorable 1936 Olympics in Berlin in which Adolph Hitler and the Nazis sponsored the games. The Parade of Nations, lighting of the torch, Jesse Owens breaking world records and other dramatic events are featured.
Lost & Rare, Vol. 2: Sports Immortals is a great companion piece to the first DVD in this series, Lost & Rare, Vol. 1: TV Pilots which offers five very rare TV shows of the 1950s and '60s. The Lost & Rare Film series has been released by Festival Films in conjunction with Movies Unlimited.
Movies Unlimited is one of the world's oldest and most reliable video retailers offering ,  DVD and Blu-ray titles, specializing in hard-to-find movies and TV shows.. Lost & Rare, Vol. 2: Sports Immortals can be ordered through their website at http://www.moviesunlimited.com or by calling 1-800-4-MOVIES. The Philadelphia-based company also publishes the annual 800-page encyclopedic Movies Unlimited DVD Catalog.
For further information, please contact: Irv Slifkin (215-637-4444, ext. 6113) irv(at)moviesunlimited(dot)com