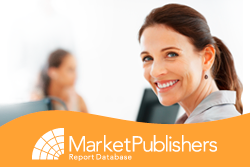 London, UK (PRWEB) May 21, 2012
The global footwear market is expected to reach USD 195 billion by 2015, with volume sales exceeding 13 billion pairs by 2012. Market growth is predicted to rebound as consumer confidence builds in the post-recession economy.
The developing markets have and will continue to post quick recovery, given the growing Asian appetite for mass consumption of footwear, globalization of the industry, and rising number of sports enthusiasts in the region. Additionally, restoration of economic health and growth fundamentals like improving consumer sentiment, income levels, employment levels, and resurgence in discretionary spends, are more wholesome than in comparison with developed economies.
New study "Footwear: Market Research Report" developed by Global Industry Analysts has been recently published by Market Publishers Ltd.
Report Details:
Title: Footwear: Market Research Report
Published: March, 2012
Pages: 889
Price: US$ 4,950.00
http://marketpublishers.com/report/consumers_goods/other_cg/footwear_market_research_report_gia.html
The research study delves into in-depth analysis of the footwear market from a global perspective, along with presenting separate comprehensive analytics for the US, Canada, Japan, Europe, the Asia-Pacific, Latin America, and the Middle East & Africa. It contains annual estimates and forecasts for the period 2009 through 2017; as well as includes a six-year historic analysis for these markets. Furthermore, the report is supplemented with elaborate profiles of 841 companies including the world's leading manufacturers.
The product categories/segments mentioned include: athletic footwear (aerobic, baseball, basketball, cricket, cross-training, soccer, running, tennis, walking, hiking, hockey, athleisure, & others), outdoor/rugged, casual, dress/formal, and footwear accessories.
Report Contents:
I. Introduction, Methodology & Product Definitions
Study Reliability and Reporting Limitations
Disclaimers
Data Interpretation & Reporting Level
Quantitative Techniques & Analytics
Product Definitions and Scope of Study
Athletic Footwear
Aerobic Shoes
Athleisure Footwear
Baseball Footwear
Basketball Footwear
Cricket Footwear
Cross-Training
Running Shoes
Soccer Shoes
Tennis Shoes
Walking Shoes
Other Athletic Footwear
Outdoor/Rugged Footwear
Casual Footwear
Dress/Formal Footwear
Footwear Accessories
Socks
Insoles
Gaiters
II. Executive Summary
1. Industry Profile
A Prelude
Global Footwear Market – An Overview
Table 1: Footwear Consumption in Select Countries (2010): Breakdown of Per Capita Consumption for the US, EU, Taiwan, Japan, Korea, Canada, Australia, Brazil, Mexico, Thailand, Indonesia, India, and China (includes corresponding Graph/Chart)
Market Scenario
Impact of the 2007-2009 Recession in Retrospect
Luxury Footwear Worst Affected in the 2007-2009 Recession
Growth Resumes in Year 2010
Developing Markets On the Radar, Post Recession
Will Growth in Europe Be Held Hostage to the Debt Crisis?
Outlook
Competition
Table 2: Worldwide Footwear Market (2011): Leading Companies' Footwear Sales in US$ Billion (includes corresponding Graph/Chart)
Brand Talk
Branding - What the Consumer Looks for
Hard Facts about Branding
Move Towards Unconventional Brand Names
Baby Boomers - Changing Priorities
Kids - The Easiest Prey for Brands?
Integration of Fashion and Comfort
Fusion of Performance and Style - A Successful Formula
The Rift between Production and Consumption Narrows
Competitive Advantages of Leading Footwear Producers
Table 3: Worldwide Imports of Footwear for the Years 2004 through 2008 (In US$ Billion) (includes corresponding Graph/Chart)
2. Market Dynamics
Movers and Shapers of the Industry's Stance
Footwear Industry in the New Millennium
Globalization - Optimal Efficiencies
It's a Mix-and-Match of Opportunities & Strengths
Technology Advancements - An Explosive Period Ahead
The Consumerism Wave
Consumerism in the 21st Century
Forces Shaping Consumerism
Time - A Rare Commodity
Freedom - The Prized Possession
Small Shops - The Most Favored Targets
Advent of a Global Network
The Battle Between the Body and the Soul
Children - Deciding Success and Failure of Retailers
Consumers - On Top of the World
Factors Influencing the Footwear Industry
Facts About the Footwear Industry
Caught in the Rip Van Winkle Act
The Replacement Issue
A Non-Seasonal Living
Huge Discounting
Dearth of Creativity
...
More new studies by the publisher can be found at Global Industry Analysts page.