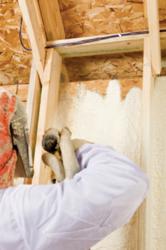 Tuckahoe, NY (PRWEB) May 23, 2012
Dr. Energy Saver® Westchester is pleased to announce the inclusion of spray foam insulation to their many services. Two employees have completed their certification to use the recently purchased Graco Spray Foam machine.
The new machine is known to boost productivity while achieving outstanding air sealing and insulation results, increasing the home's energy efficiency.
The employees at Dr. Energy Saver completed a three-day training program taught by experts of Spray Foam Nation, a contractor support company for the spray foam industry. The Spray Foam Professional Certification course takes a contractor's perspective and teaches the fundamentals of spray foam insulation techniques. The certificate allows spraying of both Lapolla foam and Premium Spray products.
As a follow-up, Spray Foam Nation offers on-site additional training as well as a performance analysis of the newly-certified contractors.
Graco is a world leader in its field. Founded in 1926, they set the standard for fluid handling systems and products for spray finishing, protective coatings and much more; they also provide power application equipment for the contractor industry. Their long-term success is based on technical excellence and world-class manufacturing.
Dr. Energy Saver Westchester is the sister company and new addition to the 22-year-old heating and cooling company, Innovative Air Solutions. This team of experts not only offers home insulation but a full range of energy conservation products and related services including home energy audits, window and door replacement, water heaters, and air sealing, to name a few. Their goal for homeowners is higher energy efficiency and lower energy bills.
Part of a national network of energy conservation contractors, Dr. Energy Saver Westchester serves all of Westchester County and areas of Putnam County, New York as well.