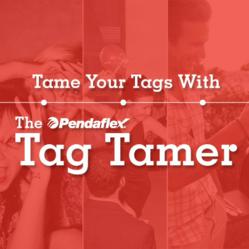 (PRWEB) May 22, 2012
Esselte Corporation announced today the launch of Pendaflex® Tag Tamer™, a Facebook app designed to help find and remove unwanted photos from an individual's Facebook Timeline.
Over the past few years, Facebook has become a tool for recruiters and hiring managers to screen potential candidates. A recent study indicates that more than 90% of hiring professionals visit candidates' social media accounts for screening. Notably, 70% have rejected a candidate because of inappropriate Facebook content. Now, with the advent of Facebook's Timeline changes, photos are more visible and discoverable than ever. In addition, searching for and removing photos is anything but convenient, especially if you're tagged in a multitude of photos.
Esselte, with its leading Pendaflex brand of filing and organization products, saw an opportunity to help consumers organize and improve their Facebook presence. Pendaflex Tag Tamer streamlines the process of searching and removing unwanted photos from your Timeline by using an advanced search function that is user friendly and time saving.
Instead of manually scrolling through their Timeline or photo tab, by using Pendaflex Tag Tamer, users can search for photos by the month and/or year that they were uploaded, as well as by friends who are tagged in the same photo. Tag Tamer will gather together all photos from your Timeline that fit the search criteria in one window. Once assembled, you can easily view each photo and select unprofessional, outdated, or embarrassing photos to individually remove from your Timeline.
Pendaflex Tag Tamer has obvious utility for job seekers and college grads; however, anyone who has hundreds or thousands of photos will also appreciate the convenience and value that Tag Tamer offers.
About Esselte: Esselte Corporation is part of the Esselte Group, one of the world's premier manufacturers of organizational solutions. With revenue of $1 billion, Esselte companies operate in 31 countries with distribution in more than 120 countries. Esselte products are sold in North America primarily under the Pendaflex®, Oxford®, Xyron® and Rapid® brands and in Europe primarily under the Esselte®, Leitz® and Rapid® brands.
Esselte®, Pendaflex®, Oxford®, Leitz®, Xyron® and Rapid® are trademarks of Esselte Corporation or its affiliates, registered in the U.S. and other countries. Facebook® is a trademark of Facebook, Inc. registered in the U.S. and other countries.