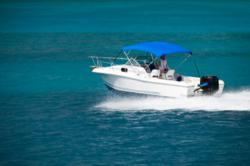 Towergate Insurance, were awarded 'Claims Service of the Year' at the UK Broker Awards
(PRWEB UK) 31 May 2012
Interweb Media Ltd, in partnership with Towergate Insurance, have recently redesigned and re-launched their Boat Insurance comparison website ProtectMyBoat.co.uk .
The new site has been carefully improved to make it faster and easier for people to obtain an insurance quote than on the previous version. Now, the relevant type of boat can be quickly seen and selected, and it takes just a few clicks to submit some basic details for a quote. There is also a telephone number for those who don't like to give their details online or are in a rush.
John Tuckwell, Sales Director for Towergate Mardon says "Now that the warmer weather is here, many boat owners will be starting to think about taking their craft out of storage and preparing it for use over the summer. Alongside all of the usual checks and preparation, it is advisable to check your Boat Insurance, making sure that it still meets your requirements"
The new website offers Towergate's Latitude Policy, which is a multi-section insurance policy that can cover a wide variety of boats, crafts and uses. It has been carefully designed so that there are 4 tiered levels of cover to choose from, each with an increasing range of benefits.
Statistically, just as with car insurance, high performance craft such as sports boats will often demand a higher premium than lighter boats like canoes or dinghies. This is because they provide a much higher risk to the insurer for damage or injury if they collide with another craft or person, and they can also be a very tempting target for thieves. This is why the 4 tier policy is helpful, enabling customers to only pay for the level of cover that they actually require.
Alongside a comprehensive Boat Insurance policy, having a good, reliable insurance broker is always helpful. This is certainly the case with Towergate Insurance, who were awarded the 'Claims Service of the Year' accolade at the UK Broker Awards on 9th September 2011. They are also Europe's largest independently owned insurance intermediary, covering many other types of insurance as well as boat.
This week is actually National Safe Boating Week in America. Whilst this is not celebrated as such in the UK, the messages are still very valid. Boat safety is very important and having the right safety equipment and skills can save lives.
For more information, visit http://www.protectmyboat.co.uk